WHAT IS TEMPEH GOOD FOR?
Tempeh is ideal for cholesterol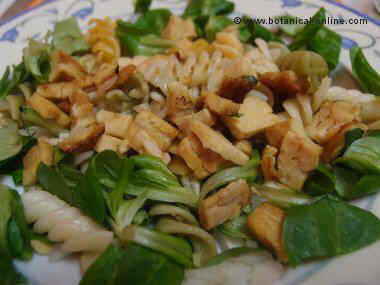 Tempeh cooked with pasta and watercress. See how it looks like meat. In fact, it is known as a type of "vegetable meat"
Since it is a fermented product, tempeh is a good food for easy digestion and intestinal protection. But it also gives us many other benefits because of the nutrients it contains.
Being a plant food, it does not increase the cholesterol levels of those who consume it, and, therefore, it is beneficial in persons with dyslipidemia and cardiovascular diseases.
To the beneficial effects of protein type for cholesterol, it has to be added the action exerted by its fiber content, which absorbs part of it, minimizing its assimilation in our body and helping its expulsion.
But also, the type of fat it contains is a good quality one (mostly monounsaturated), so very suitable for any possible circulatory problem.
Tempeh is good for menopausal problems
Because it contains isoflavones, a substance that acts as natural estrogens of women, its consumption is beneficial to women in menopause.
Although we must bear in mind that not all women are equal, so it does not act similarly in all of them, being more effective in some than in others in terms of relieving symptoms women may suffer during this period, such as hot flashes.
Therefore, one would have to consider the inclusion of tempeh in the diet for menopause.
Tempeh brings a lot of protein
Because of its high protein content, consumption is recommended in all situations of life in which a protein maintenance is required or even when an increase in consumption is necessary, always in order to provide the necessary amount not to cause nutritional deficiencies.
It is especially recommended for high-performance athletes, stress or trauma, iron deficiency anemia, vegetarian diet, etc. It is also recommended in case of dyslipidemia is suffering, since eating it will bring more protein without increasing cholesterol levels in blood.
In tempeh fermentation process a large amount of enzymes are produce which makes it a very easily digestible food. It is therefore recommended when heavy or annoying digestions, or when someone finds some difficulty to eat protein foods such as dairy, meat, etc.
Obviously this protein intake must always be appropriate to the needs of each person. It is not considered beneficial, balanced or healthy, an excessive intake, or a deficit of this. So,in all ages of life. a consumption that can really cover the needs of each stage and the inherent needs of each individual should be performed.
Tempeh is rich in vitamins and minerals
Tempeh consumption is recommended because it contains vitamins and minerals that can provide numerous benefits to our body.
Its content in B vitamins, particularly riboflavin (vitamin B2), helps detoxification functions performed by the liver.
Both manganese and copper promote an antioxidant action of our body, helping to prevent the formation of free radicals and preventing the onset of many degenerative diseases that cause the accumulation of toxins in the body.
For its magnesium content, tempeh helps proper muscle contraction and subsequent decontraction. Besides having basifying effect, it is essential in many other reactions of our body.
Tempeh contains lots of fiber
Because of its fiber content, it may be recommended in several different situations such as:
– Diabetes: being able to maintain blood glucose levels stable, it achieves delaying the speed of its absorption in blood,
– Cholesterol: As a result of the absorption of ingested fats, it helps eliminate substances that may be toxic (such as nitrosamines), removing them from the body before they can be absorbed and damage the intestinal system
Who should not eat tempeh?
Obviously, tempeh consumption is not recommended for people who are allergic to legumes, particularly soybeans, as this is a product obtained through this food and, therefore, it can cause the same detrimental effect on these people.
Where can we buy tempeh?
Tempeh can be purchased at health food stores. You should choose a place of trust and buy a reliable brand. We must be especially careful, since it is handmade and it could be contaminated due to poor elaboration, poor hygiene or conservation, which would convey detrimental effects on our health.
It should be noted also that, as in other legumes. if not properly prepared, neither sufficiently cooked, nor stored without proper hygiene, this can result in choking, maldigestion or flatulence, which, besides being troublesome, may cause malabsorption. This can lead to lack of necessary nutrients, or even some unwanted food poisoning


More information on tempeh.
This article was endorsed by
Elisenda Carballido
- Dietitian nutritionist. Postgraduate in Phytotherapy and master in Nutrition and Metabolism.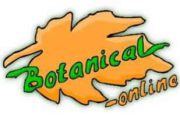 Written by
Editorial
Botanical-online team in charge of content writing