Properties of oak honey
Characteristics and benefits of oak honey
What is holm oak honey?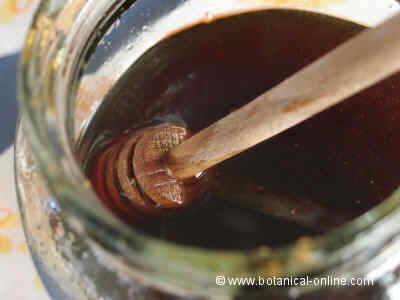 Photo of honey of oak
It is not a honey obtained from the nectar of flowers. It is the honey produced by bees that suck the molasses that comes off the acorns or fruits of the oak
Characteristics of oak honey
It is one of the darkest honeys, sometimes black. Taste good but too strong for many people. Very rich in iron
Properties of oak honey
Holm oak honey has mainly astringent, stimulating and digestive properties.
What is oak honey used for?
Its use is very suitable for the treatment of the following anomalies:
- Diseases of the digestive system: Its digestive properties make it suitable in case of bad digestion. Its astringent character may be useful in combating diarrhea and dysentery.
Using oak honey will help us recover energy

More information on honey types and properties in the listing above.
Other interesting articles
This material is for informational purposes only. In case of doubt, consult the doctor.
"Botanical" is not responsible for damages caused by self-medication.