Pea family -leguminoseae-
Pea family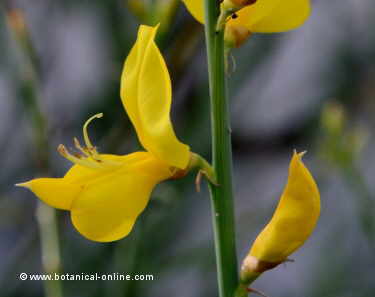 Photo of Spartium junceum L.
The pea family -Fabaceae, Leguminosae or Papilionaceae- has about 19.400 species of plants growing mainly in the temperate regions.
The most common species are herbs, but some of them are shrubs and trees, too.
Leaves (1): composite, seldom single, with very conspicuous stipules. (2) in many cases ending in tendrils or filaments (3). Sometimes leaves are reduced to spines.

Flowers:

In racemes.

Calyx (4): 5 joined sepals.

Corolla: 5 petals. One at the top, called standard (5); two sided ones, called wings (6) and two joined ones below which form the keel (7)

Stamens: 10 usually joined into a tube.

Style: 1

Ovary: superior

Fruit: Pod (8) dehiscent into two valves.
Genera
They are about 450 genera. The most important ones are the following:
Other interesting articles
This material is for informational purposes only. In case of doubt, consult the doctor.
"Botanical" is not responsible for damages caused by self-medication.