This article was endorsed by
Julián Masats
- Technical agricultural engineer specialized in horticulture and gardening.
Pea family plants characteristics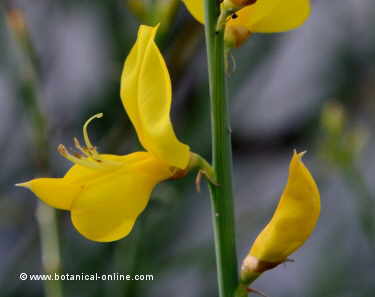 Photo of Spartium junceum L.
The pea family –Fabaceae, Leguminosae or Papilionaceae– has about 19.400 species of plants growing mainly in the temperate regions.
The most common species are herbs, but some of them are shrubs and trees, too.
Leaves (1): composite, seldom single, with very conspicuous stipules. (2) in many cases ending in tendrils or filaments (3). Sometimes leaves are reduced to spines.

Flowers:
In racemes.
Calyx (4): 5 joined sepals.
Corolla: 5 petals. One at the top, called standard (5); two sided ones, called wings (6) and two joined ones below which form the keel (7)

Stamens: 10 usually joined into a tube.
Style: 1
Ovary: superior
Fruit: Pod (8) dehiscent into two valves.
Genera
They are about 450 genera. The most important ones are the following:
ACACIA

ADENOCARPUS

ANAGYRIS

ANTHYLLIS

ASTRAGALUS

CALITOME

CERCIS

CHAMAECYTISUS

CHAMAESPARTIUM

CICER

COLUTEA

DORYCNIUM

ERINACEA

GALEGA

GLYCYRRHIZA

HIPPOCREPIS

LATHYRUS

LOTONONIS

LOTUS

LUPINUS

MEDICAGO

OXYTROPIS

PHASEOLUS

PSORALEA

ROBINIA

ROBINIA

SCORPIURUS SAROTHAMNUS

TELINE

TETRAGONOLOBUS

TRIGONELLA

TRIGONELLA

(Vicia cracca subsp. incana)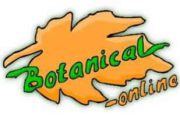 Written by
Editorial
Botanical-online team in charge of content writing