HOW TO GROW ARNICA
Characteristics of arnica (Arnica montana)
Arnica plant, an endangered species
In many places, the wild collection of this plant is prohibited. Preparations sold in pharmacies or herbalists come from cultivated plants. Home remedies have to be prepared with specimens grown in pots, gardens and orchards.
Arnica (Arnica montana) is a plant of the Asteraceae family native of European mountains.
It is a protected species in many European countries, because it has been declining as a result of the search that has been submitted because of the medicinal properties of this plant.
Moreover, it is a very sensitive to pollution plant, because it can not live in areas where there is minimal residual nitrogen even that one which comes from air deposition.
Pollution of many European mountains has led to this plant to the danger of extinction.
Characteristics of arnica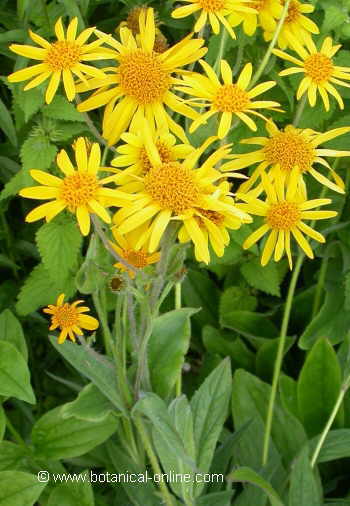 Photo of arnica plant
Perennial plant of the Compositae family (Asteraceae) up to 60 cm.
Basal rosette composed of oval or oblong leaves, opposite, sessile, with very marked nerves. Floral stem leaves opposite, numbering one or two pairs.
Flowers very showy, lonely ant the end of heary flower stems. Up to 8 cm in diameter, but usually do not exceed three, yellow or yellowish orange.
Arnica growing conditions: Climate
It grows in meadows or pastures of the mountainous areas of North West Europe and North America
It requires a warm and humid climate, a high location in semi-shade
It can grow from 800 – 2,400m.
Soil requirements
– It does not like calcareous soils
– Acid or siliceous soils, somewhat stony, light, well drained.
– Reaction soil: soil pH acid
– Fertile and rich, organic.
Propagation of arnica
Sexual reproduction by seeds
Sow seeds in a seedbed in late spring (March-April) after frost.
Germination takes 2-4 weeks later.
Transplant in autumn, potted. Protect plants from cold first winter.
Arnica bloom
The plant blooms from June to August. Flowers, including the stems are harvested for medicinal purposes.
Harvesting and storing arnica
The plant will be collected immediately after flowering. The flowers are harvested in the second year of cultivation. When the plant blooms, flowers are cut, including the peduncle, and allowed to dry before storing. For this purpose an oven (70 ºC) is used. After being dried, they are stored in airtight and dry glasses protected from light.
Arnica plant can last between 2 and 4 years.
Arnica diseases
The main danger of this crop is Trypetes arnicivora fly. This insect can put larvae in flower heads (This is the reason why it is recommended to harvest the flowers immediately after flowering -to avoid this colonization-and to use stoves for drying flowers).


More information on arnica.
This article was endorsed by
Julián Masats
- Technical agricultural engineer specialized in horticulture and gardening.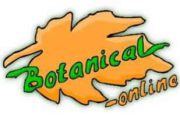 Written by
Editorial
Botanical-online team in charge of content writing