This article was endorsed by
Julián Masats
- Technical agricultural engineer specialized in horticulture and gardening.
Characteristics of daisy family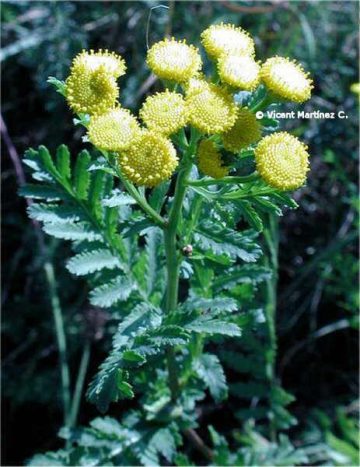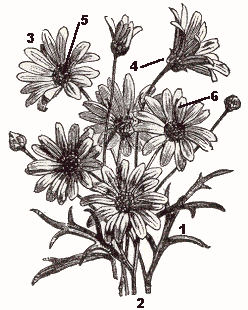 The daisy family – compositae – stands for about 2000 of plants scattered throughout the world, but mainly in temperate and subtropical regions.
Most of all, they are annual or vivacious herbs, although trees and bushes can also be found.
According to their floral structure (head) and their chemical composition it is considered as the most evolutionated family in the dicotyledonous
Leaves (1): simple or compound. Alternate or whorled.
Stems: (2) Generally herbaceous.
Flowers: Gathered in heads, (3), similar to a single flower but being in fact an inflorescence. heads are formed by a base where single flower stand. It is called the receptacle. All around the heads there are the bracts, calyx-like, forming altogether the involucre, (4)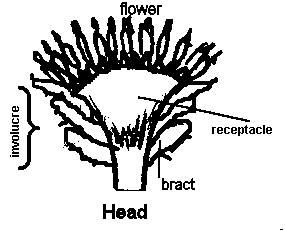 Calyx: Transformed in a single ring of hairs or scales, parachute- like. Sometimes not present.
Corolla: With 5 united petals. It can be:
 Bell- shaped, ending in 5 teeth. This kind of flowers are called florets. (5)
A tube-like that opens quickly in a flat form 5 teeth ending. They are called ligules. (6)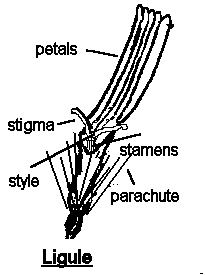 Heads can be formed:
Stamens: 5 attached at the base of the corolla, united at the anthers like a tub,wherein style can be found.
Ovary: Inferior
Style: 1, with two stigmas.
Fruit:
Achenes
Genera
There are about 900 genera. The most important:
ACHILLEA

ADENOSTYLES

AETHEORHRIZA

AMBROSIA

ANACYCLUS

ANDRYALA

ANTENNARIA

ANTHEMIS

APOSERIS

ARCTIUM

ARCTOTHECA

ARNOSERIS

ARTEMISIA

ASTER

ASTERISCUS

ATRACTYLIS

BACCHARIS

BALSAMITA

BELLIS

BELLIUM

BIDENS

BOMBYCILAENA

CARDUUS

CARLINA

CARPESIUM

CATANANCHE

CHAMAEMELUM

CHAMOMILLA

CHEIROLOPUS

CHONDRILLA

CICERBITA

CICHORIUM

CLADANTHUS

CNICUS

COLEOSTEPHUS

CONYZA

COTULA

CREPIS

CRUPINA

CRYSANTHEMUM

CYANOPSIS

DITTRICHIA

DORONICUM

ECHINOPS

ECLIPTA

ERIGERON

EUPATORIUM

EVAX

FILAGINELLA

FILAGO

GALACTITES

GALINSOGA

GAMOCHAETA

GLOSSOPAPPUS

GNAPHALIUM

GUIZOTIA

GYMNOSTYLES

HEDYPNOIS

HELIANTHUS

HELICHRYSUM

HETERANTHEMIS

HIERACIUM

HISPIDELLA

HOMOGYNE

HYMENOSTEMMA

HYOSERIS

IFLOGA

JASONIA

JURINEA

KOELPINIA

LAPSANA

LASIOPOGON

LAUNANEA

LEONTODON

LEONTOPODIUM

LEPIDOPHORUM

LEUCANTHEMOPSIS

LEUCANTHEMUM

LEUZEA

LEYSERA

LOGFIA

MANTISALCA

MICROPUS

MYCELIS

NEOLLETIA

NOTOBASIS

OMALOTHECA

ONOPORDUM

OTANTHUS

OTOSPERMUM

PALLENIS

PETASITES

PHAGNALON

PHALACROCARPUM

PICNOMON

PICRIS

PRENANTHES

PROLONGOA

PTILOSTEMON

PULICARIA

REICHARDIA

RHAGADIOLUS

ROTHMALERIA

SAUSSUREA

SCHKUHARIA

SCOLYMUS

SCORZONERA

SERRATULA

SOLIDAGO

SOLIVA

SONCHUS

STAEHELINA

TAGETES

TOLPIS

TRAGOPOGON

TRYMNUS

TUSSILAGO

UROSPERMUM

VOLUTARIA

XANTHIUM

XERANTHEMUM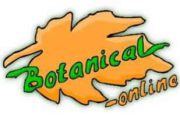 Written by
Editorial
Botanical-online team in charge of content writing