NUTRITIONAL VALUE OF DRAGON FRUIT OR PITAHAYA
What is pitahaya?
Pitahaya or dragon fruit is a tropical fruit of showy color, produced by a plant (Hylocereus undatus), which belongs to the family of cacti.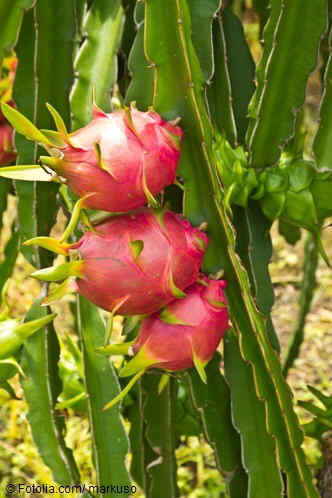 Image of a branch of dragon fruit with some fruits.
How is pitahaya like?
The flowers of the plant are very aromatic and open at night, so that in some regions, the fruit is known as Queen of the Night.
Dragon fruit produces a fleshy fruit, oval, rounded and elongated. Red, purple or yellow, skin with some greenish bracts on its surface that give it an exotic appearance.
Pitahaya fruit pulp is white, red, pink or yellow, with numerous tiny black seeds inside. Their weight ranges between 200 g., up to 1kg.
It has a sweet, slightly sour taste.
Nutritional value of pitahaya
Pitahaya is a moisturizing and highly nutritious food, which gives us natural sugars, fiber, niacin and vitamin C.
Pitahaya balanced contribution of sugars
– Fruit sugars (.. 9 to 15g per 100g) are slowly absorbed due to the action of the soluble fiber that provides the same food, making it a suitable fruit for diabetes.
– Fruit soluble fiber (mucilage) is responsible for the gelatinous texture of its flesh. This type of fiber is very healthy, because it has satiating effects and helps regulate intestinal transit, fights constipation and cholesterol. Mucilages also allow prepare delicious dragon fruit jams.
Pitahaya with important minerals for athletes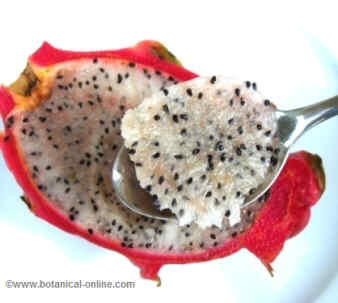 Dragon fruit image.
– The fruit contains minerals such as phosphorus, potassium, calcium and magnesium, which help balance the body's electrolytes, especially after sports. It is recommended for athletes because it provides quality energy and nutritious components.
Vitamins and energy of dragon fruit
– For its contribution in calories and vitamins B, with energizing function, it is a balanced breakfast or snack in the diet of children, students or people with stress.
– Dragon fruit is also an excellent source of natural antioxidants, such as vitamin C, beta carotene and flavonoids.
In case of varieties of dragon fruit with purple pulp, we also have the benefits of betalains, with antioxidant and protective effect of capillary fragility. Betalains are the same pigments from beet (Beta vulgaris).
Composition of dragon fruit
Medicinal properties of dragon fruit
– Medicinal ingredients: It deserves to be highlighted the importance of captine, a substance that works as a cardiac tonic and stimulant of the nervous system.
Pitahaya is also a very suitable fruit for gastritis and digestive ulcers, because it is not acidic, it exerts skin emollient effect. Besides, it is rich in vitamin C, with healing properties.
* More information about the medicinal properties of pitahaya fruit.
How is the dragon fruit is taken?
– Raw: fruit is cut in half and the pulp can be consumed with a spoon.
– Cut to make fruit skewers, decorative desserts, fruit salads, etc.
– Juices, liqueurs, jellies, jams, etc. and preserves.
– Added to smoothies and cakes, to dye them red (red pulp pitahayas).
– Dragon fruit wine
Where to buy dragon fruit?
– Local markets where the plant is native.
– Wholesale markets and specialty stores
– Some supermarkets and restaurants.


More information on dragon fruit.
This article was endorsed by
Elisenda Carballido
- Dietitian nutritionist. Postgraduate in Phytotherapy and master in Nutrition and Metabolism.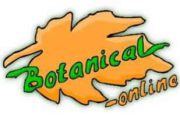 Written by
Editorial
Botanical-online team in charge of content writing