When not to take soy lecithin
How is soy lecithin obtained?
Soy lecithin is obtained from the extraction of soybean fat. It is rich in phospholipids, choline and vitamin E.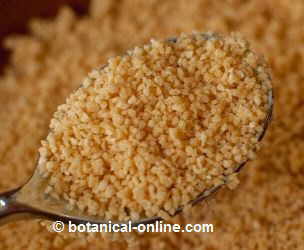 Photo of soy lecithin
Among the main indications of soy lecithin, we have:
Arteriosclerosis
Hypertension
Does soy lecithin make you fat?
One of the main doubts of this supplement is whether soy lecithin makes you fat. Soy lecithin is the fat extraction of soybeans, that is, it contains 100% fat, even though these are healthy fats.
For this reason, it should be taken in moderation, especially if there is obesity, because it is a high-calorie supplement when taken above the recommended doses.
However, it is not contraindicated in these cases, moreover, soy lecithin is a very suitable supplement for obesity. In the right doses, it helps reduce cholesterol and is an effective remedy against the poor circulation that is produced by the deposit of cholesterol in the arteries.
How many calories does soy lecithin have?
One teaspoon of granulated soy lecithin (5 g.) Contains 38 calories (kcal). The recommended daily dose is 2 to 3 teaspoons spread throughout the day. In a simple way, we have to imagine that a teaspoon of oil is being ingested, so even though it is a good quality fat, it is not advisable to abuse it either.
Taken in supplements, 1 bean lecithin pearls of approximately 1,000 mg., Contains 7.5 calories. It is recommended to take it in pearls because the properties are better preserved and its dosage is easier.
Composition of soy lecithin
Soy lecithin is a fatty extract from soybeans, therefore it mainly contains fats and fat-soluble vitamins, such as vitamin E.
* More information: Composition of soy lecithin
Side effects of soy lecithin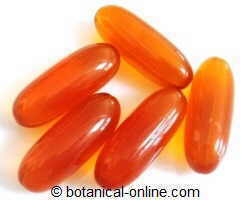 Photo of soy lecithin pearls. The use of soy lecithin pearls is recommended because in this way it conserves its properties better and its dosage is easier.
Lecithin is a natural component found in many foods, such as soy or egg yolk. No adverse reactions have been reported by the use of this supplement in the usual doses, but it can produce side effects or, in high doses, undesired effects:
As side effects, it can produce:
Loss of appetite
Gain or loss of weight
May have slight laxative effect
Although not usual, in high doses can cause adverse reactions such as:
Bellyache
Diarrhea
Sweating
Vomiting
Dependence on soy lecithin
It is not convenient to exceed the dose of a couple of teaspoons of soy lecithin per day, because it could cause dependence, that is, the body temporarily stops producing high levels of choline (a component of soy lecithin). These effects are reversible since the body easily recovers this capacity.
Contraindications of soy lecithin
Soy lecithin presents the following important contraindications:
It is not recommended for pregnant or lactating women without medical advice.
It is strictly contraindicated for people with soy allergy or, in the case of supplements, allergic to any of the components of the product.
Soy lecithin does not contain gluten, so it can be consumed by people with celiac disease. It is always recommended to check the packaging to ensure that the product is free of gluten.
In case of illness or medication, consult the doctor before taking this supplement .
Is soy lecithin good for menopause?
This supplement can provide nutritional benefits in menopause, but it is important to know that it lacks the effect of soy isoflavones for hot flashes. Soy lecithin does not contain isoflavones, which are substances with a hormonal effect of soy that can make up for the lack of estrogens at this stage of life.
Soy lecithin and thyroid problems
Is soy lecithin harmful in case of thyroid problems? This doubt arises because soy has gociogenic components that impede the absorption of iodine. Soybean goitrogenic compounds are found in the protein part of the legume, therefore, they are not in soy lecithin supplements. This same doubt usually occurs with other foods derived from soy, such as tofu or tempeh …
* Related information:
– Is soy lecithin good for thyroid?
Soy lecithin for cancer
Soy lecithin is a nutritional supplement (its components are found naturally in food) and has no contraindication before, during or after cancer. This recommendation is the same in breast and prostate cancer, according to the latest scientific evidence.


More information on lecithin.
This article was endorsed by
Elisenda Carballido
- Dietitian nutritionist. Postgraduate in Phytotherapy and master in Nutrition and Metabolism.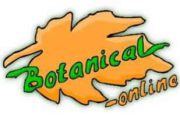 Written by
Editorial
Botanical-online team in charge of content writing