Ophrys bertolonii Moretti
Orchid
PHOTOS OF ORCHID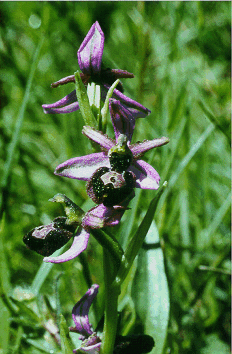 Photo of Ophrys bertolonii Moretti
Ophrys bertolonii Moretti - (Orchid)
Perennial bulbous plant of the Orchid family -Orchidaceae- up to 40 cm. Basal lanceolate leaves. Flowers till 2 cm in loose spikes from 2 - 8. A notched central lip, 2 cm long; velvety, hairy, very dark, almost black with a dark blue spot on it.. Perianth pink with 3 external segments broader than the internal ones; both the same length but the external darker and hairy. In dry grasslands and by the side of the roads.
More information about plants in the listing above.
Other interesting articles
This material is for informational purposes only. In case of doubt, consult the doctor.
"Botanical" is not responsible for damages caused by self-medication.