Comfrey medicinal properties
Preparations with comfrey for external use
Attention!: Do not prolong its use !
Comfrey for skin care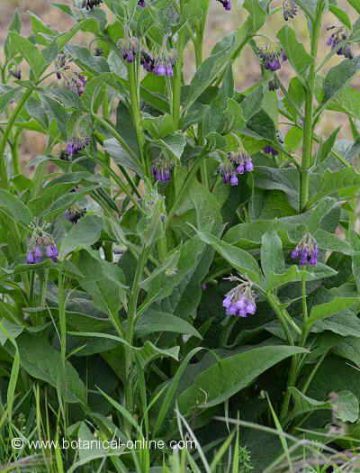 This plant stands out as one of the best traditional vulnerary solutions, that is to say, as a remedy to heal wounds.
This ability to promote wound healing and prevent bleeding is determined by its wealth of allantoin, which can reach up to 1.5% in its tender roots. It is for this reason that this component appears in the list of ingredients of many ointments designed to good skin care.
Moreover, you can not forget the role played by its high content of mucilage (up to 30%) which, by acting as a demulcent, relieves irritation and inflammation of the eroded parts, reducing pain.
Comfrey takes pride of place in plants containing mucilage behind other well known as borage (Borago officinalis), carob (Ceratonia siliqua) or pomegranate (Punica granatum).
Among its medicinal properties for the skin we would also have to mention its high tannin content (up to 6%) whose recognized astringent properties play a healing role in accelerating wound healing and hemostasis, and to stop bleeding. (See complete information on tannins)
These properties are used to treat the following conditions:
Injuries: Applied on a cut or open wound, comfrey helps reduce blood flow and promotes healing. (Crush its tender root and apply it as a poultice on the affected area. You can also use fresh crushed leaves with the same purpose although its effects are not as potent as the root. The liquid resulting from its leaves infusion can also be used when fresh plant is not available. In this case wet a gauze with the liquid of the infusion and apply to the affected area)
Sores: Its ability in healing wounds is very effective. It can be applied to all types of wounds: ulcers in the mouth (Perform rinses with liquid from the infusion of dried leaves. Do not swallow the liquid.). Also, sores resulting from prominent varices. (A poultice of the fresh root on the wound, wet the wound with liquid from the previous infusion)
Cracks: It helps close the cracks in the skin, so that the application of the juice of the fresh plant or the liquid from the infusion of dried leaves can be very suitable for cracks or gouges caused by weight changes, stretch marks on the nipples of the breasts of nursing women (After the application and before breastfeeding, wash your breast well) or abdominal stretch marks caused by pregnancy.
Burns: The above preparations are suitable for healing burns.
Hemorrhoids: It reduces inflammation and diminishes pain. (Apply compresses with the liquid from the decoction of a teaspoon of root per cup of water)
Comfrey to reduce pain
It has also been used externally for the treatment of pain because of the calming effects of some of its components (especially niacin, stigmasterol and caffeic acid). Among the many soothing applications, we include the following:
Arthritis and osteoarthritis. It relieves pain of these conditions. (Make a decoction of the root and apply a wet compress on the affected area)
Strains, or dislocations of bones: Comfrey reduces severe pain of these injuries. (Crush the fresh root and add olive oil. Make a paste and apply on the affected part, covering it with a gauze) (Application of massages on the painful area with comfrey ointment)
Tendinitis or bursitis: It reduces pain from inflammation of tendons, ligaments and synovial sacks (Make a decoction of the root and apply a wet compress on the affected area)
Fractures: The use of this plant helps not only to reduce the pain of a fracture but promotes healing of it because it accelerates welding of bones. (Poultice of crushed tender root on the affected area) (The liquid from the decoction of the dried root can replace the fresh root in times when this plant is not available.
Comfrey to treat infections
The antibacterial properties are given by its richness in tannins and acids (caffeic, chlorogenic, ascorbic and rosmarinic). Taking this into consideration, it has traditionally been exploited for the cure of many diseases caused by bacteria in the respiratory tract.
The use of gargles made with the decoction of a teaspoon of root per cup of water, sweetened with honey, can be used, for example, for the treatment of tonsillitis, pharyngitis and laryngitis.
These same properties are used to treat infections of the female apparatus as inflammation of the uterine wall (metritis) or vaginal infections. (Irrigations with root decoction)
Medicinal remedies with comfrey for internal use
Attention!: This plant should not be used in internal use. However, the widespread use of this plant in traditional internal medicine, forces us to mention a number of common uses:
Comfrey to fight bacteria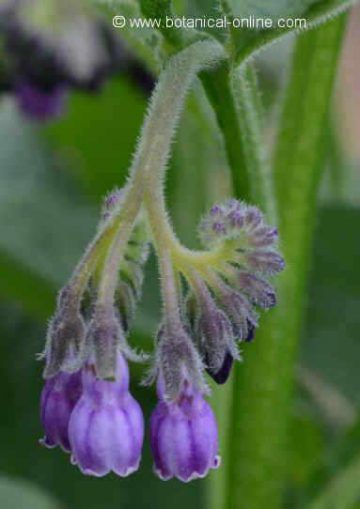 Internally, it has been used for the treatment of diseases caused by bacteria:
Respiratory diseases, such as bronchitis, pulmonary inflammation, pulmonary hemorrhage (hemoptysis), etc. (Root decoctions of the leaves or infusions)
Inflammations in various organs, such as intestine inflammations (enteritis), abdomen (abdominal distension), kidneys (nephritis), fallopian tubes (salpingitis) (root decoctions or infusions of leaves),
Injuries caused in the internal mucous membranes, such as stomach ulcers or duodenal ulcers.
Is comfrey an edible plant? food uses of comfrey leaves
Comfrey is not an edible wild plant, although in some literature it may appear as an edible plant (leaves and young stems have been used in salads and as wild vegetables).
Since it contains toxic alkaloids and, above all, because of the presence in its aerial parts of alkaloid consolidine and of its content in nitrates, it is not advisable to eat this plant.
Other species of comfrey
Comfrey genus (Symphytum) includes about 25 species of plants. Among them we want to mention the following:
Tuberous comfrey (Symphytum tuberosum): It characterized by having a very thick creeping rhizome, very hairy stems and oblong leaves with long stalks. Its flowers are yellow. It abounds in Europe. It has the same toxicity as comfrey.
Caucasian comfrey, blue comfrey, or beinwell (Symphytum caucasicum): It appears in Iran and the Caucasus. It is a perennial herb of smaller size than those ones ween before. It has oval leaves and blue flowers decurrent at maturity.
Rough Comfrey, prickly comfrey (Symphytum asperum) It gets its name from the presence of its abundant stiff hairs. Its flowers are very distinctive reaching almost 1.5 cm. They are pink in youth and mature to purple. Native to Europe and Iran, in some places it is used as a species to produce forage.
Where to buy or get comfrey?
Comfrey can be found in the wild and it can better be bought at herbalists. If you want to get the fresh root, it can only be purchased from a fresh plant, so you can by it in gardens, flower shops or sites selling gardening plants. (Do Not harvest the roots of wild specimens).


More information on comfrey contraindications, cultivation and toxicity.
This article was endorsed by
Vicente Martínez Centelles
- Founder of the web and director. Teacher of natural sciences, expert in plants, natural remedies and botanical photography.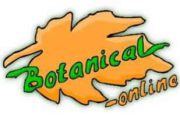 Written by
Editorial
Botanical-online team in charge of content writing