WHEN NOT TO TAKE COMFREY MEDICINAL REMEDIES
What is comfrey used for?
Comfrey (Symphytum officinale) is a widely used emollient vulnerary remedy, with properties to stimulate cell proliferation (It accelerates wound healing time). It is also astringent and antihemorrhagic.
The leaves are used as a remedy for some skin diseases such as burns, scars, psoriasis, bruises, eczema and insect bites.
Comfrey has to be used only externally. Its internal use is totally contraindicated.
Recent studies have shown that internal treatments with comfrey can cause serious liver damage and even cancer.
* More information about the side effects of comfrey.
Comfrey use in pregnancy, lactation and for children
Pregnancy and lactation: toxic alkaloids can cross the placental barrier and breast, reaching the fetus or baby. No treatment with comfrey (internally or externally) during pregnancy and lactation should be administered.
Children under 12 years: Comfrey should not be given to children under 12 years because it contains toxic alkaloids. There have been cases of methemoglobinemia and internal disorders in children after consumption of herbal teas with these toxic principles.
What contraindications does comfrey present?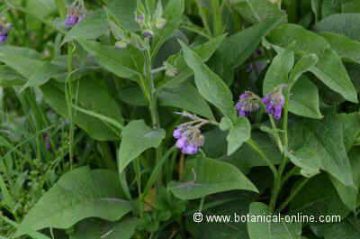 Internal treatments are contraindicated: it is a toxic plant and should only be used as vulnerary, externally (applied to the skin).
* More information on the toxicity of comfrey.
Prolonged treatments are contraindicated because its toxic principles (alkaloids) have a cumulative effect on the liver.
Liver disease: the hepatotoxicity of its components can aggravate liver diseases (they cause liver vaso occlusion) such as liver failure, cirrhosis or hepatitis.
Renal impairment The internal or external use in case of this disease is contraindicated.
Cancer: alkaloids present in the plant are hepatocarcinogenic (they can cause liver cancer). The administration of this plant is contraindicated in neoplasms.
Medications or drugs: People who are taking phenothiazine and tricyclic antidepressants should not take remedies with comfrey.


More information on comfrey.
This article was endorsed by
Montserrat Enrich
- Journalist specializing in edible wild plants and plant uses.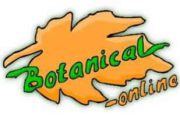 Written by
Editorial
Botanical-online team in charge of content writing