Medicinal properties of vanilla beans
BENEFITS OF VANILLA
What is vanilla good for?
– Natural tranquilizer: For its soothing properties, vanilla is a very important food, as well as its aroma. It can be used as food as part of desserts and sweet preparations, and as the scent of the essential oil.
In aromatherapy, vanilla aroma is very appreciated for its relaxing qualities and as a natural antidepressant, but it is also used as an aromatic stimulant. This is due to their volatile compounds: eugenol, limonene, coumarins and benzaldehyde. Also the sweet aroma of vanillin and its derivatives help relaxation.
Vanilla -Food and flavoring- is indicated in anxiety disorders, anxiety about food, weight loss diets, relaxation, depression and insomnia.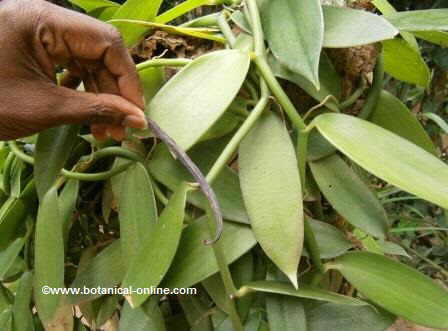 Vanilla plant with one hand, holding a vanilla pod (the fruit of the plant).
– Analgesic: Vanilla bean contains coumarin, eugenol, phenol and salicylic acid; all components with analgesic action, that is to say, they relieve pain.
This makes vanilla a good supplement to treat muscle pain, headache pain, with the added value of its relaxing and anxiolytic properties. It is also a good analgesic for stomach pain and it has got digestive properties.
It also has components against herpes (catechins), so it can be effective in treatment.
– Febrífuge: Vanilla has been used traditionally as a remedy to help reduce fever naturally. It contains salicylates, salicylic acid (component which derives the famous "Aspirin"), benzoic acid and eugenol, with antipyretic effects.
– Antirheumatic: Adding vanilla to your food or using vanilla in aromatherapy can be an effective aid for the treatment of rheumatic diseases and fibromyalgia, because this plant contains active relaxant ingredients, besides anisic acid, a natural antirheumatic.
– Digestive: Vanilla has strengthening effect and stimulates digestive functions. Promotes the function of the digestive organs, strengthens the stomach (contains catechins), has laxative effects (vanillic acid) and choleretic properties, stimulating bile production (due to vanillin and its derivatives, eugenol and ferulic acid). Therefore, vanilla can be very interesting in case of gastritis, heartburn and biliary insufficiency. It is not advisable to use vanilla in cases of diarrhea.
– Antibacterial: Vanilla can help prevent and treat bad breath or halitosis due to its richness in antibacterial and antiseptic substances and acids. Among them eugenol, tannins, vanillic acid and other acids (acetic acid, anisic acid, benzoic acid, malic acid, etc.).
– Stimulant: One of the oldest and most traditional uses for this plant (Vanilla pots are macerated for 25 days in an alcoholic beverage (liqueur, etc Take 15 drops of this liquid 3 times daily)
– Antioxidant: Volatiles in this plant, in this case the aromas of vanilla, possess antioxidant properties beneficial to the body, to prevent aging. Vanilla contains antioxidants such as phenol, tannins, vanillic acid and vanillin.


ORAC values per 100g. Thanks to the ORAC scale., We can compare the antioxidant power of the vanilla pod with other foods in the following table
Spices (with many volatile components) have high antioxidant power compared to everyday foods like vegetables and fruits, for example.

It should be noted that this antioxidant is measured by 100 grams, and spices have a very light weight, compared with fresh daily food.

Add aromatic spices to our food helps us not grow old
Toxicity of vanilla
Vanilla is not a toxic plant or it does not have side effects, so there are no contraindications for this plant.
However, it has been observed through the production operators of vanilla sheath at industrial leve that the handling of large quantities of vanilla can produce headache and rash.
These amounts are not comparable to those used in aromatic treatments or food.
The essential oil should not be given to pregnant women or children under 6 years.
Dose of vanilla
– Pod powder: 0,5-1g.
– Tincture: 2-3 drops, 3 to 5 times a day.


More information on vanilla.
This article was endorsed by
Montserrat Enrich
- Journalist specializing in edible wild plants and plant uses.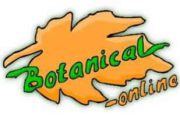 Written by
Editorial
Botanical-online team in charge of content writing