Arthritis herbal remedies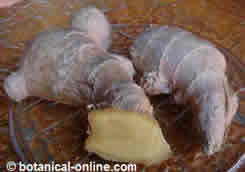 Ginger rhizome
Preparations for arthritis pain
Some homemade preparations are intended to relieve joint pain produced by this disease, making it more bearable. Among the most important ones we can point out:
Tinctures and essential oils to treat arthritis pain
– Ginger (Zingiber officinale) the anti-inflammatory and analgesics values of ginger can be used externally to relieve pain and swelling that occurs in arthritic joints. (Infusion of a handful of ginger root in a liter of water. Dip a hot compress and apply for a 15 or 20 minutes on the joints. Repeat the treatment every 6 hours) (Rub the painful area with ginger oil mixed with almond oil) (See: Ginger for arthritis )
– Lavender (Lavandula officinalis, Lavandula latifolia): (Rubbing the affected area with a few drops of essential oil diluted in olive oil helps reduce inflammation and decrease pain sensation.)
– Nutmeg (Myristica fragrans) We used the diluted essential oil for rubbing on the joints of rheumatic people in order to lessen pain and reduce inflammation.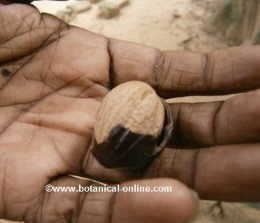 Photography of nutmeg seed, which is ground and used as a spice
– Lemon tree (Citrus limonum risso) (Rub with the essential oil the affected areas)
– Chamomile: (Matricaria chamomilla) (Rubbings with the liquid from the maceration of 2 ounces of dried flowers in a liter of olive oil for a couple of hours. Save the liquid in a dark container tightly closed and apply it when feeling pain)
– Oregano (Origanum vulgare) (Apply the essential oil on the affected skin with a clean cloth) (Baths with hot water, where a couple of liters of infusion of dried flowers have been poured)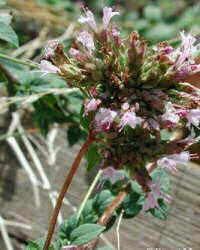 Photography of oregano
– Comfrey: (Symphytum officinale) (root decoction and apply a wet compress on the affected area.
– Blessed Thistle (Cnicus benedictus) (Apply on the affected area plant tincture, made by fermentation of the decoction of the dried plant in alcohol for 10 days)
– Marshmallow (Althaea officinalis) Apply a compress to a liquid in a decoction of 10 minutes a handful of dried root in a liter of water.
– Eucalyptus (Eucalyptus globulus) (dissolve 20 or 30 cc (1 cc = 1 ml) of essential oil in a liter of water and rub the affected joint)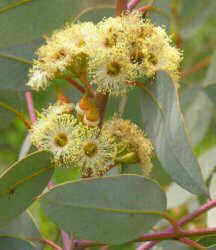 Photography of eucalyptus leaves and flowers
– Bay (Laurus nobilis) (4 drops of essential oil 3 times daily) (Rub with the ointment of essential oil extracted from fruits)
– Hops (Humulus lupulus) (Wet a gauze with a few drops of tincture of hops, diluted in a glass of water, and apply on affected area)
Arthritis pain reliever
– Oats (Avena sativa) To alleviate the pains caused by rheumatic diseases we can mix some oatmeal with vinegar, then we boiled until it becomes pasty. This same treatment can be used to alleviate the severe pain of low back pain.
Menthol pain relief
– Mint species (Mentha spp.), because of their content in menthol, have been considered as a good remedy for arthritis pain relief (Dilute a few drops of mint oil in alcohol. Wet a compress and apply it on the the affected joint) (poultice of leaves soaked in hot water to be applied directly over the painful area)
Arthritis pain relief creams
– Ivy (Hedera helix) Ivy's ability to decrease the sensitivity of peripheral nerves is used for external treatment of pain, especially in regard to muscle pain or joint pain caused by rheumatism. (Creams based on this plant or homemade compresses with the decoction of 200 g of leaves per liter of water have been used. However, given the toxicity of the plant, we recommend using only standard preparations according to the conditions of t he patient information leaflet and under medical supervision)
– Arnica(Arnica montana) anti-inflammatory properties of arnica are useful for the treatment of rheumatoid arthritis. (Apply a gentle rub on the painful joint with ointment of this plant.) (This product can be obtained in Pharmacies and herbalists)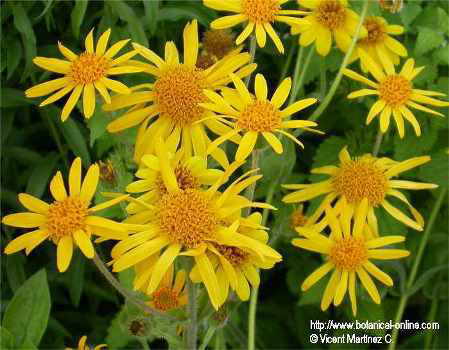 Arnica flowers
– Capsaicin: Recently many studies have been delivered about the beneficial effects of capsaicin (component that is part of the genus Capsicum, which is commonly known as pepper) on the reduction of pain in rheumatoid arthritis patients, while avoiding the side effects that treatment conventional leads.
Related information:
– Vitamins and other supplements for arthritis and osteoarthritis,
– Tips to relieve joint pain
– Homemade ointment to treat pain


More information about arthritis natural treatment.
This article was endorsed by
Montserrat Enrich
- Journalist specializing in edible wild plants and plant uses.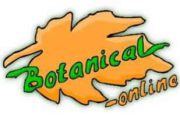 Written by
Editorial
Botanical-online team in charge of content writing