Cool recipe with fennel leaves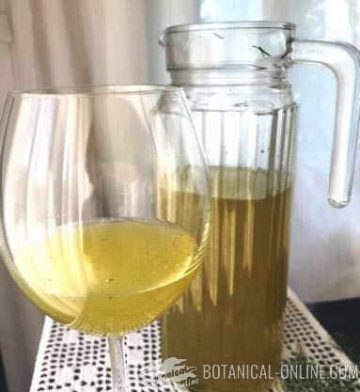 Fennel soda to quench thirst
It's hot, very hot. We fancy a soda. As natural as it can be. With no added sugars.To quench thirst… Try this fennel drink!
Spring and summer are the perfect times to take advantage of fennel to satiate our thirst. How? Making this simple drink.
This recipe consists of a refreshing drink, easy to make, made with the leaves of fennel (Foeniculum vulgare).
Why to use fennel?
Fennel is a plant that has been consumed for many years as an aromatic herb, providing an intense, slightly aniseed and sweet, exquisite flavor.
You can prepare it every day at night, store it in the fridge, and the next day it will be very cool, to use during the day.
It is delicious and allows many variants !!!
Benefits of fennel drink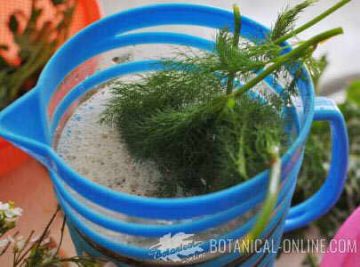 In addition to its refreshing taste, this fennel drink also provides the diuretic, carminative and anti-inflammatory properties of fennel. Try it !!!
Ingredients for fennel drink
The ingredients we will need to prepare the fennel drink are:
1 jar with a liter of water
1 bunch of tender fennel leaves
Squeezed half lemon
Grated lemon peel
Preparation of fennel drink
We put all the ingredients inside the jug of water and pass it through the blender, so that the fennel is chopped well. Lemon will prevent rust.
We store it in refrigeration one hour and,  after macerating, we strain it.
We already have the fennel drink ready. Very easy!
It should be refrigerated a few hours, and we already have enough quantity made to drink at any time.
Variants of fennel drink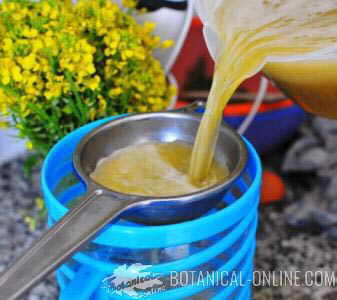 Do you want it a little sweeter, or with a tickly touch ? You can add some apple juice or juice, or cider. It is delicious!
1 jar with a liter of sweet cider
1 bunch of fennel
Squeezed natural lemon
A pinch of lemon zest
Fennel drink with cider
Instead of water alone, you put half cider, half water. You can also add a liquefied apple, so it is a little thicker.
If you want it sweeter, you can put sugar, or use some stevia leaves, which will also sweeten, and is healthier because it does does not rise your sugar in blood. You can play with the intensity of the fennel flavor, putting more or less quantity.
Fennel soda  is an excellent wild drink to quench thirst throughout the summer. Try it !!!
Recipe courtesy of  Montserrat Enrich of the blog: Gastronomia salvatge


More information on wild flowers and wild edible plants
This article was endorsed by
Montserrat Enrich
- Journalist specializing in edible wild plants and plant uses.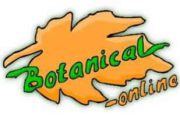 Written by
Editorial
Botanical-online team in charge of content writing