Diet for Crohn's disease
Recommended food for Crohn's disease
Diet plays a key role in monitoring Crohn's disease. A proper diet can help the patient to distance attacks and make these less severe when they occur.
It has been proven that following a proper diet can reduce the amount of drugs of Crohn's disease patients, due to the improvement that most of them experienced in the intestine.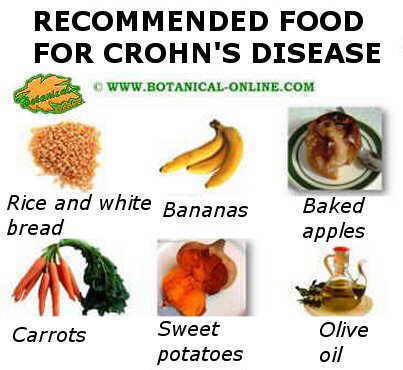 Some recommended foods for Crohn's disease
Special needs in Crohn's disease
Intestinal malabsorption of those who have Crohn's disease typically causes deficiencies of vitamins and minerals. A proper diet will help remedy these shortcomings.
In addition to malnutrition, problems may occur, such as thickening of the bowels, making it more difficult to digest and leads, besides the consequent colic, to the loss of appetite.
In general, the patient should be directed by a dietitian who must maintain strict control of these food that can be tolerated by the patient.
Each new food should be introduced in small quantities to see if it is accepted.
Those foods which are not well tolerated must be excluded and replaced by others that are accepted. As a rule, when it is not very clear whether a food is recommended, it is best to take it in small quantities to see if it is well tolerated.
ADEQUATE FOOD FOR CROHN'S DISEASE
Among the most recommended foods, we can mention the following:
Cereals for Crohn's disease
Cereals provide high amounts of energy, in the form of carbohydrates, zinc and B vitamins that strengthen the nervous system. They have demulcent properties that help to reduce inflammation of the digestive mucous membranes, so they should be taken daily.
These foods should be taken very cooked (they will be more digestive and do not cause gas).
Whole grains can cause inflammation due to their insoluble fiber, so personal tolerance should be investigated.
Tubers and roots for Crohn's disease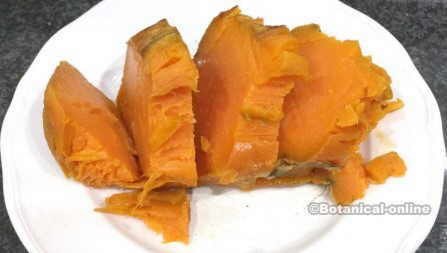 Sweet potatoes are very good for Crohn's disease
Tubers provide energy and are easy to digest. They have, like cereals, B group vitamins that help strengthen the nervous system.
Potatoes and sweet potatoes: They are nutritious foods and in general very well tolerated. They should be cooked enough to be better digested (Steam cooking is recommended so that they lose less nutrients and contain more potassium). Sweet potatoes also contain good doses of beta-carotene that help to reduce inflammation and take care of the digestive mucous membranes.
Carrots: Another delicious nutritious vegetable rich in carotenoids that benefit the health of the skin. Carrot smoothies are highly recommended for their mineral and vitamin content.
Fruits and vegetables for Crohn's disease
In general, fruits and vegetables are suitable because they can help to replace the deficiency of vitamins and minerals. Between vitamins that are often lacking we find vitamin C, vitamin K and many vitamins of the B complex.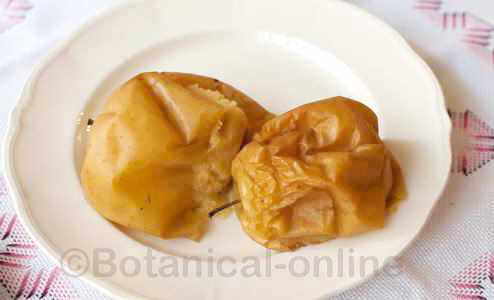 Baked apples are recommended in Crohn's disease diet
As far as minerals, we have to emphasize that patients with Crohn's disease usually have very low levels of potassium, due to the frequent evacuations, and of iron, because they badly absorb it. A proper diet can help to restore the levels of this mineral.
Among all the fruits that are better tolerated we can point out: apples, (specially baked apples), quinces, pears and bananas.
As for vegetables, stewed or boiled potatoes and sweet potatoes are the ones showing better tolerance, while chips, onions, cabbages, Brussels sprouts , cauliflowers, peppers or radishes are those that are tolerated worse.
Warning: The consumption of fruit should be moderate because the intake of foods high in sugar may worsen the disease
Dried fruits and nuts for Crohn's disease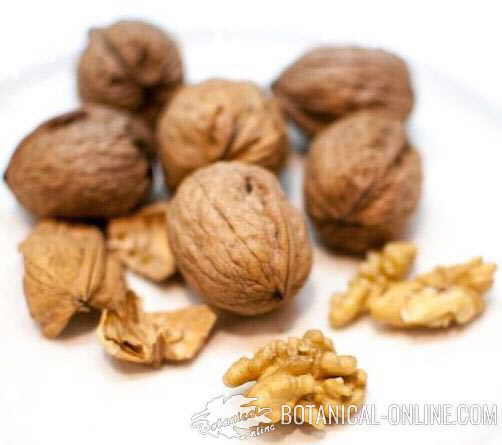 Some patients of Crohn's disease accept nuts in their diet; other do not tolerate them
Dry fruits and nuts can provide much calcium, a mineral that the patients with Crohn's disease absorb very badly. However, many patients tolerate poorly these foods and therefore each one should be tested individually if any of them makes the patient feel bad. Peanuts, for example, are often poorly tolerated.
Healthy fats for Crohn's disease
Excess of fats can increase laxative effects and should moderate during these periods. Taken in moderation, these foods will have very beneficial effects by providing high doses of vitamin E, which helps to reduce inflammation and restore digestive mucous membranes.
Sources of calcium and proteins in Crohn's disease
Milk and its derivatives are a good source of calcium.
Most patients can not tolerate whole milk and derivatives made with whole milk (cheese, yogurt, butter, cream, etc).
Skimmed milk and skimmed milk derivatives may or may not be tolerated so they should be tested previously. Milk without lactose usually has greater intestinal tolerance.
An alternative to milk that is generally accepted by these patients is soymilk or the derivatives of soybean like soy cheese (tofu) (Tofu should be boiled at least 17 minutes).
Rice drink enriched with calcium is very good for these patients.
Eggs: They are interesting for their vitamin D content, although patients must check tolerance to them.Fried eggs or hard-boiled eggs should be avoided and eggs should be tasted in omelette, scrambled or washed with water.
Blue fish: It is rich in essential fatty acids Omega-3 that play an anti-inflammatory role well suited for the treatment of this disease. Within this group we would have tuna, mackerel or sardines. Cod is also a kind of oily fish, although it is not always tolerated and a small amount should be tested before eating it normally. Seafood can be well-accepted by some patients and poorly by others.
Can I take salt?
Of course you can. People with Crohn's disease can and should eat with salt because it provides good doses of sodium, important to compensate for the imbalances that occur during outbreaks of diarrhea.
In case of suffering from heart disease, hypertension, or taking medication for varicose veins or poor circulation, medical control must be strict.
* Go on reading: Non recommended food for Crohn's disease


More information on Crohn's disease in the listing below
This article was endorsed by
Elisenda Carballido
- Dietitian nutritionist. Postgraduate in Phytotherapy and master in Nutrition and Metabolism.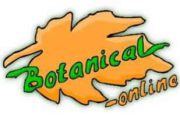 Written by
Editorial
Botanical-online team in charge of content writing