What is a turnip (Brassica napus var. napus )? 
Characteristics of turnip
It is a plant of the Cruciferae family, the same family to which they belong other vegetables such as broccoli, cabbage or radishes.
What is a turnip root?
A turnip is also  a vegetable root  of this plant that is consumed mainly in Europe. It is harvested while still tender. This is a thickened (napiform), rounded and tender root. The skin is white or purple, and the flesh is white.
The raw turnip flavor is spicy and pungent, like radishes. When cooked, it takes a milder flavor, so it can remind you the taste of broccoli or cauliflower.
It presents a strong spicy taste, because turnip is one of the cruciferous with more glucosinolates content (spiciness medicinal components). Therefore, raw turnips can upset sensitive stomachs, and is not recommended in cases of gastritis.
Turnips are eaten raw in salads. they can also be cooked to accompany vegetables and cereals, or in soups and broths.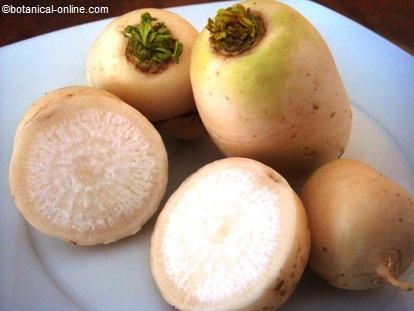 Photo of turnips
One of them is cut in half
Types of turnips
There are two types of turnips: true turnips and rutabagas.
– The true turnips (Brassica napus var. Napus) Their rounded roots are thickened, white, red or purple. Their leaves are deeply divided and large. These are edible and are known by the name of turnip. These are cultivated since ancient times in the temperate zones of Europe.
– The kohlrabi or rutabaga (Brassica napus var. Rapifera = Brassica napus var. Napobrassica)They are plants like turnips, but the leaves are smooth and shiny, and the roots have white or yellow flesh. This species is formed from a cross between oilseed rape> Brassica napus) and cabbage (Brassica oleracea). It is mainly grown in cold areas of Europe.
EDIBLE PROPERTIES OF TURNIPS
Turnips are rich in carbohydrates and minerals, mainly. Because of its high water content, energy intake is reduced, being an ideal plant in slimming diets and diabetes diet.
Turnips are usually combined with legumes and cereals to increase protein intake and compensate for deficits of amino acids.
Fiber is an important component in turnip composition. This fiber benefits the bowel movements and, together with other medicinal components, can prevent colon cancer.
The raw root is very rich in vitamin C. An example, 100g. turnip contain 20mg. of this vitamin, that's to say a third of the daily requirement of vitamin C in adults. It is usually eaten grated in cleansing salads, especially in the diet of athletes or in anti-aging diets.
Because of its mineral content, is an alkalizing, purifying and diuretic ingredient.
The turnip is poor in folate, although its leaves, turnip greens, are a popular food for pregnant women due to its high content of folic acid.
It is essential to consume turnip and turnip greens in diets for osteoporosis, since it is a food rich in calcium. Turnip greens can be taken raw or cooked. They are very nutritious, rich in vitamins and minerals.
Traditionally, the turnip is a nutrient that helps relieve bronchial problems.
For its diuretic and detoxifying properties, turnips consumption is recommended in people with gout and rheumatism.
Turnip as food
Although currently turnips are little appreciated in gastronomy, these roots have been nurtured for centuries the peoples of Europe, which used it as a food and as animal fodder.
– The turnip is consumed with vegetables and rice dishes. In the Valencian coast (Spain), people prepare a dish of rice with beans and turnips. (See recipe)
– A delicious turnip soup is a nourishing winter dish. (See recipe: turnip soup)
– In many regions, the Christmas broth is prepared with carrots, parsnips, celery and turnip.
– You can boil it and combine and serve with vegetables seasoned with olive oil and fresh parsley.
– Raw, grated and added to salads. View Recipe: Salad with turnips
Turnip nutritional composition
Turnip composition per 100g.
Nutrient
Amount

Calories (kcal.)

27

Carbohydrates (g.)

4,4

Proteins (g.)

0,9

Fats (g.)

0,1

Fiber (g.)

1,8

VITAMINS
Vitamin C (mg.)

21

Vitamin B1 or thiamin (mg.)

0,04

Vitamin B2 or riboflavin (mg.)

0,03

Vitamin B3 or niacin (mg.)

0,55

Vitamina B6 or pyridoxine (mg.)

0,09

Folates (mcg.)

14,5

MINERALS
Calcium (mg.)

30

Magnesium (mg.)

27

Phosphorus (mg.)

11

Sodium (mg.)

67

Potassium (mg.)

191

Iron (mg.)

0,30


More information about turnips.
This article was endorsed by
Julián Masats
- Technical agricultural engineer specialized in horticulture and gardening.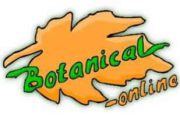 Written by
Editorial
Botanical-online team in charge of content writing