How to prepare dishes with wild plants
Recipes with edible wild plants
Edible wild plants are those vegetables that were consumed in the past, but that have now been displaced by commercial varieties, more productive or less delicate, such as chard or spinach. Fortunately, knowledge of edible plants has not been completely lost, since to a greater or lesser extent, their consumption has always been preserved in rural environments.
In recent years, interest in edible plants is resurfacing, as they bring us closer to the authentic "lifelong" food, and it is also a way of learning to look at nature with different eyes. Identifying, cooking and tasting the taste of wild plants is a whole new experience.
Benefits of eating wild plants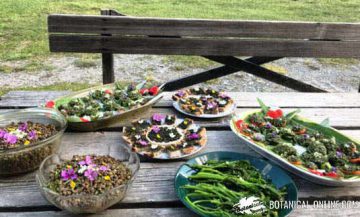 Consuming the herbs that nature offers us has benefits from harvesting to the palate. The first benefit they bring us is that they widen our gastronomic universe and allow us to recover a vestige of culinary culture, about to be buried by food globalization.
How to learn to cook with edible wild plants
Knowledge of edible wild plants is usually scarce, since it is only conserved in rural environments, or in very studious people who have become experts in the field by means of  of constantly researching and experimenting with these vegetables.
Recommended wild plant courses
For people who are not experts in this area, it is recommended that you take a course on cooking with edible wild plants, where you can learn firsthand to know and collect wild plants from the environment. In addition, these types of courses are usually a great opportunity to walk through nature and have a very pleasant time.
Where to do cooking courses with edible plants?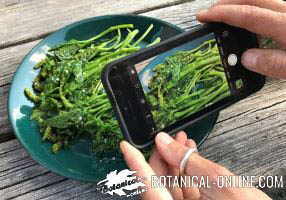 From Botanical online we have studied and worked with various experts.
As recommendations, we highlight the excellent courses of edible wild plants of Montserrat Enrich, a great connoisseur of edible wild plants, a regular contributor to our web portal and author of the book «Herbes a la carte«. You can follow her courses on the Natura edible website and her personal blog Gastronomia salvatge.
Other professionals such as Yelel Cañas (blog «Kiaora BioCocina»), Astrid Van Ginkel (blog «Fitomón»), Meret Bissegger and Françoise Marmy also deserve a special recommendation.
List of edible wild plants recipes
Below you can find some of the many recipes with wild plants that we have been collecting, to help broaden the gastronomic universe of your kitchen, and also recover a vestige of culinary culture:
Special thanks to Montserrat Enrich of the blog: Gastronomia salvatge, author of most of the recipes that appear in this list


More information on wild flowers and wild edible plants
This article was endorsed by
Elisenda Carballido
- Dietitian nutritionist. Postgraduate in Phytotherapy and master in Nutrition and Metabolism.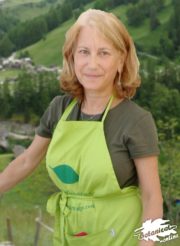 Written by
Montserrat Enrich
Journalist specializing in edible wild plants and plant uses.