Cheese recipe
CHEESE SPREAD TOASTS WITH HERBS
Ingredients of a cheese toast with herbs
How to prepare a cheese toast with herbs
With a fork, break the cheese until it has a fine texture.
Cut the mixture of very fine herbs.
Mix cheese with herbs into a smooth paste. If desired, you can add a little extra virgin olive oil.
Spread the bread slices with herb cheese
PROPERTIES OF A CHEESE TOAST WITH HERBS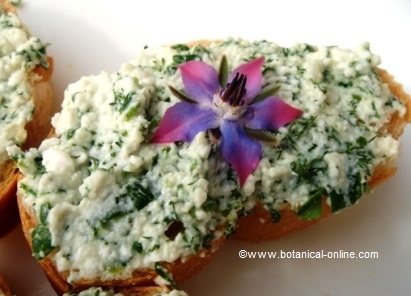 Photography of toast with cream cheese, decorated with borage flowers.
Nutritional advantages of this recipe
This is a delicious and healthy recipe because it gives us important nutrients for the day and for the health of the organism.
Cheese is rich in calcium and protein of high biological value, which nourish and strengthen our bodies and help to take the daily dose of calcium, important to prevent future diseases such as osteoporosis.
Herbs provide appetizing properties to the recipe, which makes it ideal to serve as a starter. In addition, fennel is a digestive and carminative plant, which will help digestion and prevent gas formation after eating.
This recipe is very suitable for people with heart problems and cholesterol. Polyphenols are a beneficial contribution to the health of the arteries and heart in addition to the cleansing properties of the potassium content of the herbs.
This recipe is well tolerated also for people with stomach problems, since potatoes are easy to digest with olive oil, that also helps protect the gastrointestinal mucosa.
It is ideal for children, athletes, youth, and diets for seniors.

More information about tofu.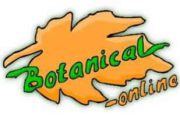 Written by
Editorial
Botanical-online team in charge of content writing