Uses of jujubes
What is jujube and what is it for?
The jujube (Ziziphus jujuba Mill) is a tree from Southeast Asia, which is basically known for its fruits, called jujubes or red dates.
Characteristics of jujubes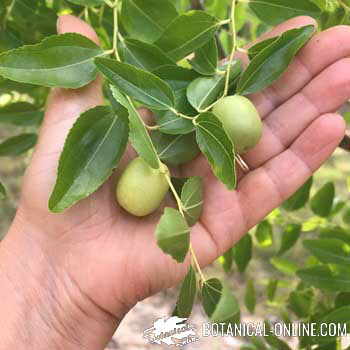 The fruits are a globose drupe, similar to an olive, green at the beginning, which darken to a rust brown tone throughout its ripening period. At the end of August and September they can already be consumed.
Normally their size is 2-3 cm in length, although there are grafted varieties that can bear fruit of up to 5-6 cm. Inside they have a whitish or pale green pulp, which covers the pit, very similar to that of the olive. Their pulp is sweet, with an acid touch and a little floury, very similar to the apple's pulp in terms of texture.
Being a late blooming tree, there is no danger that frost can affect their flowers. Another advantage is that, since they are not cultivated, their fruits are totally organic, since they do not have any treatment.
Where are jujubes consumed?
Since it is a sparse tree, its consumption is reduced to the domestic consumer, who is lucky to have a specimen in his street, field or garden.
Jujubes are not usually found in the market, although they are found in markets in countries of the Middle East, where they are sold tender, but also dried. There is also a variety of jujubes with fruits the size of a plum, from grafting.
Dried jujube fruits
Dried jujubes undergo a certain fermentation in their drying process, which softens them and accentuates their sweetness. They are used in cooking and for medicinal purposes.
What is Chinese date?
The so-called Chinese date is nothing other than the fruit of the jujube (Ziziphus jujuba Mill) that grows in that country. In the western market they present it as a novel "superfood", but in reality it is a very old and deep-rooted fruit, although not abundant.
Jujube as food
At present, Chinese dates are becoming fashionable as a "superfood", which is nothing other than the jujube itself (Ziziphus jujuba Mill., In Chinese, dazao) once the fruits are dried. In fact, in that country, their consumption and medicinal use have a tradition of more than 4,000 years. In some Chinese medicine manuals, they consider them as one of the five fruits that help strengthen the body and compensate for deficiency states.
Nuts have their application also in the kitchen, since they can be used as an accompaniment in meat dishes, stewed or baked.
In a brief nutritional analysis of this fruit we can see that their water content is around 70%, their vitamin C content is much higher than that of orange or lemon, reaching proportions of 50%. Therefore, we are facing an underused food with a high antioxidant power. Also noteworthy the high concentration of potassium of this food, almost similar to that of bananas.


More information on other fruits
This article was endorsed by
Elisenda Carballido
- Dietitian nutritionist. Postgraduate in Phytotherapy and master in Nutrition and Metabolism.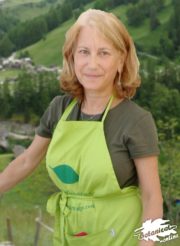 Written by
Montserrat Enrich
Journalist specializing in edible wild plants and plant uses.