PLUMS
Characteristics of plums
PLUMS are the fruits of plum trees belonging to the family Rosaceae , which includes other plants as well known as almond tree (Prunus dulcis), peach tree (Prunus persica), blackthorn (Prunus espinosa), apricot tree (Prunus armeniaca) or cherry tree (Prunus avium).
The Prunus genus comprises about 200 species, many of them, like the previous ones, are grown for their edible fruits, others are used as garden plants, such as Virginia cherry (Prunus virginiana) and Virginia black cherry (Prunus serotina), which appear planted far from their place of origin as ornamental trees in many streets and gardens.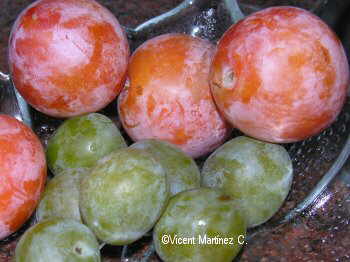 Types of plum trees
Real plum trees (Prunus)
– European plum tree (Prunus domestica L.): The most popular plum tree is the European one. It is an evergreen tree that can reach 10 m in height. Straight trunk, dark brown bark, sometimes covered with twigs of a few thorns on wild species. Toothed leaves, up to 8 cm in length, with the back covered with hair and smooth shaft, attached to the branches with sticky stems. The flowers are arranged in groups of 2-3 or are solitary. The fruit is a round drupe about 3 or 4 cm in diameter, with varied color that can range from yellow to blue-black. The interior has a flat and rough bone.
It is found in the wild as a naturalized plant in hedges or weeds, but more often it appears cultivated in most of Europe except in the north, where it does not bear the cold. It blooms before the leaves develop in early spring. The European plum is a tree from southern Europe and western Asia. Some researchers think that it first appeared in the Caucasus, along the Caspian Sea, from where it spread to every region of the world. It seems that this tree was developed as a hybrid between the sloe (Prunus spinosa) and the plum-cherry (Prunus cerasifera)
– Japanese plum tree (Prunus salicina Lindl): Although its name refers to Japan, it is native to China, where it can be found in the wild edge of the forests, the margin of rivers or cultivated between 200 and 2500 meters. Japanese plum blossoms before the European, that is why it is often used in warmer areas. From this species by hybridization with American plums, numerous varieties of plum trees have been developed, that produce very large and high-quality plums, while these trees are more resistant to pests. These trees produce the preferred plums in the market today because of their size and texture, much harder than the European varieties.
– Damson (Prunus insititia L.) Native from Damascus, this deciduous tree can grow to six meters in height. It is found in the wild in places that have a moist soil, along rivers and gullies.
American plum trees or plum-cherry tree: (Prunocerasus)
– They are composed of wild species of shrubs whose fruits are used for jams. They are very resistant species which are used as the basis for grafting European species, much more prone to be attacked by pests. Among them we have the Prunocerasus americana or Prunocerasus maritima.
Classes of plums
Different classes from plums exist. Among them, there are some well-known:
Varieties of European species are characterized by being elongated, blue or purple and yellow flesh. The bone in these plums is easily separated. Often used for the production of dried plums, there are also eaten fresh. However, for its aroma and taste they do not match Japanese plums, hence, in most cases they are used to produce jams, to be converted into prunes or accompany dishes. Among them we can mention:
– Dansom plums. Obtained from the Damascus plum tree, it was already used from the antiquity to produce dye obtained from the skin. It is characterized by an oval-terminated tip on one side and it is smaller than most plums. Its flavor is very sharp, so it is not eaten as fresh fruit but it is used primarily for making pies or jams.
– Greengage: Small in size, greenish-yellow, these plums are known for their high sweetness, due to the large amount of sugar they have. It is a plum used to make high-quality jam and for the table. However, its presentation is usually not as good as "modern" plums because they often last very little and they "open" quickly. For this reason, it is a variety that is less produced. Also, its time is very short and can only be used fresh during a few days in June.
Other highly recognized European varieties are Agen or French plum, Fellemberg or Italian plum, the Stanley, President or t Empress
The varieties of Japanese species tend to have more rounded shape, although there are some that are heart-shaped. The skin is red or reddish black but never as dark as the European varieties. Its flesh, yellowish or reddish, is more juicy and has more flavor, so it is used more often eaten fresh than the European species. Among them there are the following:
– Santa Rosa: It is considered as one of the most delicious plums in the world and one of those with more aroma.
– Fortune: Another variety that comes from Japanese plum tree. Plums are very large, with bright red skin and amber flesh. Its flavor when fully ripe, is exquisite.
– Friar: Very popular in the market for its firmness and its small bone. Its color is dark black when ripe.
– Early queen: It is obtained very early since it can be mature at the end of May. It has a hard dark red color.
– Catalina plum: This matures from early June to early July. It has yellow flesh, very good flavor and great firmness.
Other well-known varieties of Japanese plums are: Angeleno, Simka, Laroda, Royal Diamond, Black amber or Casselman.
Production of plums in the world
The largest producer of plums in the world is China. Then, United States, Romania and Germany. The U.S. is the largest producer of dried plums, followed by France and Chile. Chile exports most of its production abroad (about 90%) while the United States export less than half, and they spend 60% on sale in the domestic market.
Within the production of dried plums, California is the state that produces more and sells most of its exports to the Japanese market. France exports mostly to Algeria. Chile exports mainly to Mexico.


More information on plums.
This article was endorsed by
Julián Masats
- Technical agricultural engineer specialized in horticulture and gardening.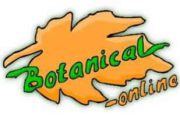 Written by
Editorial
Botanical-online team in charge of content writing