What is daphne?

Characteristics of daphne
– Scientific noun: Daphne gnidium L.
– Common noun: Daphne, flax-leaved daphne
– Family: Daphne family – Thymelaeaceae
Habitat: Where does daphne grow?
It grows in Mediterranean Europe and Middle East.
We can find it in woods, undergrowth and by the walls of cultivated lands.
Toxic components of daphne
– Active components: Mezerein and daphnetoxin.
– Active parts: The whole plant, especially its fruits.
How is Daphne gnidium like? Daphne description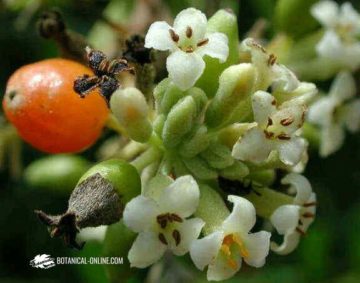 Flax-leaved daphne is a perennial shrub of the Daphne family – Thymelaceae – – up to 2m.
It has stems with leaves in the upper parts, pubescent in the inflorescence.
Leaves are unstalked, till 9 cm. long., linear- lanceolate, coriaceous, darker above, clearer and sticky below.
Male flowers are grouped in ending panicles, yellowish-white outside, whiter inside which is hairy.
Fruits in drupe, round, red, till 8 mm. in diameter. 






Drawings of different parts of the plant. By courtesy of © www.dibujosparapintar.com
Medicinal properties of daphne
Herbal remedies with daphne: Traditionally, it has been used as a drastic purgative to treat constipation, specially its bark dried to be powdered.
Considering it very poisonous, it is not advisable its use in any of the home preparations mentioned above !!!
Toxicity of daphne
The toxicity of this plant is extreme. Used internally, it leads to a violent irritation of the intestinal mucosae of the digestive tract, up to the point of causing death, especially with the ingestion of its fruits that are particularly toxic for children
Applied on the skin, it can produce serious skin problems.
Side effects of daphne
Poisoning with this plant shows the following symptoms:
Vomiting, sometimes containing blood
Diarrhea
Heartburn
Headache
Vertigo
Reduction of heart beat and death in fatal cases
When applying plasters with this plant to treat skin diseases, it produces very painful blisters, so it would be better to use another treatments.
Medical treatment for daphne poisoning: 
Administration of emetics
Gastric lavage
Dermatitis therapy.
Is daphne toxic to animals?
Daphne gnidium is very poisonous to animals. Similar symptoms to those of men are produced when animals eat its fruits, bark or leaves.
It has a percentage of mortality of about a 30 %. However, it particularly attracts partridges and hens, which eat its fruits with a great devotion


More information about plants.
This article was endorsed by
Montserrat Enrich
- Journalist specializing in edible wild plants and plant uses.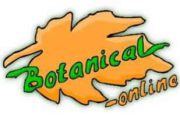 Written by
Editorial
Botanical-online team in charge of content writing