Benefits of hydroxycitic acid
PROPERTIES OF HYDROXYCYTRIC ACID FOR SLIMMING
What is hydroxycitric acid?
HYDROXYCYRIC ACID (HCA) is a substance that is extracted from the fruit of Garcinia cambogia and Garcinia indica. In English, it is abreviated as HCA.
According to studies, this substance helps to lose weight through appetite control.
Unlike anorexigenic drugs, this supplement has no contraindications and can be taken by people with diabetes and hypertension.
What is hydroxycitric acid used for?
Mechanism of action of hydroxycitric acid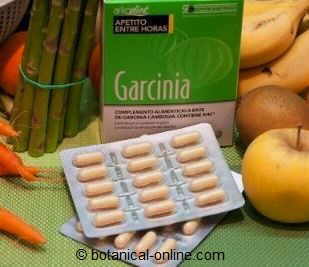 Photo of capsules with extract of Garcinia cambogia. For the supplement to be effective must be accompanied by a diet rich in fruit and vegetables.
This substance acts on the metabolism:
Its mechanism of action is to inhibit the enzyme ATP-citrate lyase, which is responsible for converting carbohydrates to fats and to manufacture cholesterol.
When you eat a lot of carbohydrates (pasta, rice, bread, corn, juices, etc.), there is an excess of energy that the body stores as fat.
The enzyme ATP-citrate lyase is responsible for this process.
By blocking the transformation of carbohydrates into fats, it makes other deposits of energy from the body to become full (liver and muscle glycogen).
When the glucose deposits of the liver and muscles are full, a signal is sent to the brain of satiety.
Effectiveness: Does it work to lose weight?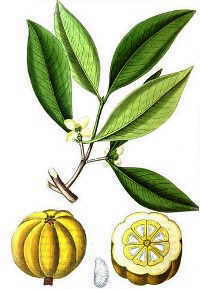 Botanical illustration of Garcinia cambogia.
On its own, AHC does not thin, but must be accompanied by a balanced hypocaloric diet, adapted for weight loss.
It is important to follow a diet rich in fiber and low in fat (A low-fat diet includes up to 30 ml per day of olive oil, fried foods and high-fat foods)
The effectiveness of the supplement is mainly that it avoids the cravings of eating and snacking between hours.
There are scientific studies that demonstrate the effectiveness of the supplement.
In addition, Garcinia cambogia extract has other interesting benefits such as:
– Helps improve diabetes (accompanied by a diet for diabetes)
* More information: Opinions about Garcinia cambogia
Hydroxycitric acid supplements for weight loss
They are usually presented in capsules or tablets of extract of Garcinia cambogia, with a minimum of 50% of hydroxycitric acid (AHC).
How to take hydroxycitric acid supplements?
Always as directed by the prospect and preferably with the advice of a doctor or health professional.
In general, for extracts of 50% in 400 mg capsules, the indication is usually 1 or 2 capsules before the main meals.


More information on garcinia cambogia.
This article was endorsed by
Vicente Martínez Centelles
- Founder of the web and director. Teacher of natural sciences, expert in plants, natural remedies and botanical photography.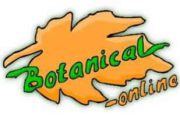 Written by
Editorial
Botanical-online team in charge of content writing