Garcinia cambogia, uses, benefits and dosage
MEDICINAL PROPERTIES OF GARCINIA
Common English name: Garcinia cambogia, brindleberry, kudam puli, citrin, gamboge, brindal berry, bitter kola, gorikapuli, Malabar tamarind, mangosteen oil tree, red mango.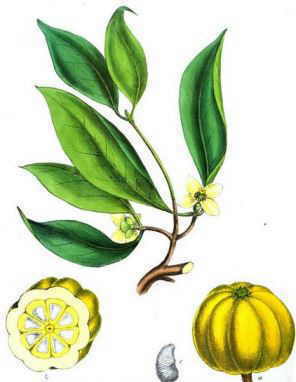 Common name in other languages:
Spanish / Español: Garcinia, Garcinia cambogia, Tamarindo malabar, Guta Gamba
Catalan / Català: garcinia, arbre de l'oli del mangosteen, baia del brindall, uppagi, citrin, gambooge, gorikapuli, cola del garcinia,
Galician / Galego: Malabar Tamarindo
Portuguese / Português: Malabar Tamarindo, goraka
Italian / Italiano: Garcinia cambogia, gomma gutta, gummi-gutti
Romanian / Română: Garcinia cambogia
French / Français: Gambooge, tamarinier de Malabar, baie de Brindall, kodumpulli, goraka,
German / Deutsch:Gummigutt, Gummiguttbaun, Gummitazz
Dutch /Nederlands: Geelhars, guttegom
Danish /Dansk: Gummiharpiks, gummiguttrae
Norwegian /Norsk bokmål: Malabartamarind
Finnish /Suomi: Mangostanit, Rohtomangostani
Русский / Russian: Гарци́ния камбоджи́йская
Scientific name: Garcinia cambogia L.; G. gummi-gutta; G. quaesita.
Family: Clusiaceae
Distribution: Most plants of the genus Garcinia are perennial trees native to Asia, South Africa and Polynesia.
Habitat: Subtropical plant originating in Indonesia, where it is known as kokam, amsool, goraka or kattcha puli.
Botanical description of Garcinia cambogia

Perennial tree of 4 – 6 m. Height and rounded crown.
Whole leaves, elliptic and glabrous.
Flowers axillary, sessile and unisexual.
The fruit is similar to a small orange or yellow squash with 6 – 8 grooves, whose pericarp is rich in hydroxycitric acid (AHC). Inside the fruit there are 6 – 8 seeds wrapped by a white succulent aril.
The inner shape of the fruit may remind the mangosteen (Garcinia mangostana), which belongs to the same family.
Active components of Garcinia cambogia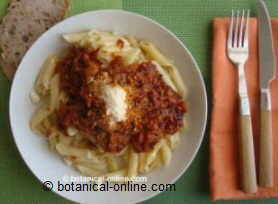 Hydroxycitric acid (30% in the crust): Structurally it is similar to the citric acid found in citrus fruits.
It is found in greater quantity in the fruit's crust, which is dried to be used as a seasoning in the currys. This acid influences on the metabolism giving sensation of satiety and suppressing the synthesis of corporal fat. These features have made it a unique supplement for weight loss (Hydroxycitric acid or HCA).

* More information on: Hydroxycitric acid
Garcinol (antiinflammatory and potent anticancer), succinic acid (antibacterial), tartaric acid (antioxidant)
Resin: it contains camboginol and cambogin. From this, the gutta gum is made, with purging properties. (It can also be obtained from other plants of the genus Garcinia).
Uses of Garcinia cambogia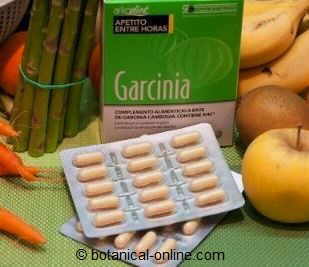 Food: The bark of the fruit, which is very acidic, is dried and consumed as a seasoning in many currys from Southeast Asian countries. In Sri Lanka it is used to macerate the fish (Colombo curing). Sometimes dishes are used as a substitute for tamarind.
It can also be used to obtain kokam butter (butter obtained from fruit seeds), which is a substitute for ghee.
Supplement: It is sold in capsules or tablets. It consists of the dried fruit peel with a minimum richness of 50% HCA.
It is anorectic, indicated for obesity, appetite control, dieting, high triglycerides and high cholesterol. Dosage according to the package: approx. 500 mg. 30 60 minutes before main meals, up to 3 a day.
Garcinia cambogia for slimming
Garcinia cambogia is mainly used to help lose weight through decreased appetite.
It is an anorectic that acts on the metabolism, so it has no effects on the nervous system and produces no side effects.
Its active ingredient, hydroxycitric acid (AHC), blocks the enzyme that transforms excess carbohydrates into fats and cholesterol, called ATP-citrate lyase.
At the same time, it increases the energy reserves of the liver and muscles (glucogenesis and gluconeogenesis), which conveys a message to the brain indicating that enough food has already been consumed, removing the desire to continue eating.
Various scientific studies have shown how this substance helps to reduce body weight by acting on appetite.
It also increases the levels of serotonin (5-HTP) by improving mood, nervousness and anxiety, constituting an aid against eating cravings, or against the stress of maintaining a low-calorie diet.
Garcinia to reduce cholesterol
In addition to its benefits as a slimming supplement, this extract can be used in the treatment of other diseases such as high cholesterol.
Garcinia extract contains garcinol, a potent antioxidant that prevents oxidation of fats and prevents deposits of atheroma plaques in the arteries. This results in lower cholesterol and lower risk of cardiovascular disease.
Research has shown that hydroxycitric acid (AHC) reduces fatty acid production by 40-70% until 12 hours after ingestion, so it can help achieve a reduction in triglycerides.
People with very high cholesterol of endogenous origin (for diseases that increase cholesterol, not diet), can help reduce their levels with Garcinia, because it controls the synthesis
Other medicinal uses of Garcinia cambogia
Stomach ulcer and digestive inflammation
The extract from this plant protects against gastric ulcer. It is anti-inflammatory and gastroprotective. It decreases the acidity of the stomach, increases the defenses of the gastric mucosa and is used to treat intestinal inflammations.
It has been used to treat gastric ulcer, colitis and irritable bowel syndrome.
Garcinia for diabetes
Garcinia supplements are safe for diabetes and also provide these people with the above benefits, including cholesterol reduction. Garcinia extract has been shown to help reduce glycosylated hemoglobin levels by partially suppressing glycation of proteins.
Garcinia cambogia or tamarindo malabar is mentioned in Ayurvedic Medicine, under the Sanskrit name Vrikshamla, to treat different other ailments:
Garcinia also for sportspeople
Whether you are an athlete or thinking about starting to do more sports, Garcinia cambogia can be a good help to improve your performance.
The extract inhibits the formation of fats and increases the production of glycogen, which is the energy store that muscles use. We mainly use muscle glycogen to do sprints or explosive strength exercises, so these athletes will be the most benefited.
Garcinia could be introduced as a supplement to the athlete's diet to improve physical performance while helping to mark muscles, as it reduces body fat and increases the energy reserves used by muscles to work.


More information on Garcinia cambogia.
This article was endorsed by
Montserrat Enrich
- Journalist specializing in edible wild plants and plant uses.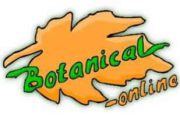 Written by
Editorial
Botanical-online team in charge of content writing