Saxifraga vayredana Luiz
Saxifrage
PHOTOS OF SAXIFRAGE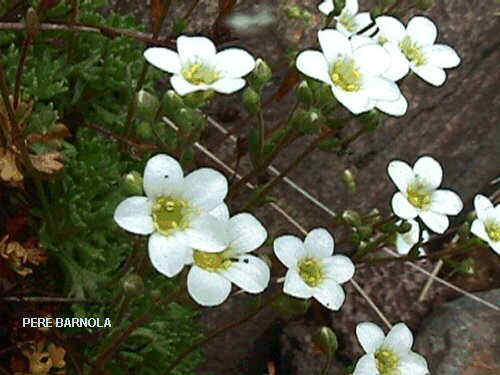 Photo of Saxifraga vayredana Luiz
Saxifraga vayredana Luiz - (Saxifrage)
Herbaceous plant of the Saxifrage family -saxifragaceae- sticky and viscous due to the glandulous hairs covering the whole plant. It makes dense turfs with his numerous intertwined low branches. Leaves light green, long stalked, usually divided into five segments. When dry, they become brown red. The flower stems with 3 to 12 flowers, petals white from 2 to 6 mm long. It flourishes from June to August in rocky places between 600 and 1700 m.
More information about plants in the listing above.
Other interesting articles
This material is for informational purposes only. In case of doubt, consult the doctor.
"Botanical" is not responsible for damages caused by self-medication.