This article was endorsed by
Julián Masats
- Technical agricultural engineer specialized in horticulture and gardening.
Cashew family
The Cashew family – Anacardiaceae – comprises about 600 species of plants which live in temperate and subtropical countries.
They are mainly trees and bushes, which contain in their stems big quantities of latex and tanines, very frequently used in resin and tanning industries. (Mastic in mastic- tree, for example).
We also have very well known edible plants, such as mangoes (Mangifera indica) or pistachios. (Pistacia vera).
Rhus glabra

Leaves (1): simple o composite.
Stems (2): Ligneous.
Flowers: (3)

In racemes. Very little.

Calyx: 5 sepals.
Corolla: 5 petals.
Stamens: 5-10.
Ovary: superior with 5 carpels.
Style: 1-3
Fruit:

Generally a drupe.(4)

Mangifera indica

Pistacia vera
Genera
The most important ones are the following:
COTINUS
PISTACIA
RHUS
SCHINUS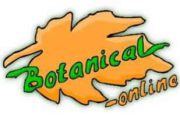 Written by
Editorial
Botanical-online team in charge of content writing