What is ginger?
Characteristics of ginger (Zingiber officinale)
Common noun: Ginger, Garden ginger
Scientific noun: Zingiber officinale Roscoe = Amomum zingiber L. = Zingiber zingiber (L.) H. Karst.
Family: Ginger family – Zingiberaceae
Habitat: South of Asia. Cultivated in many warm places.
Ginger
(Zingiber officinale)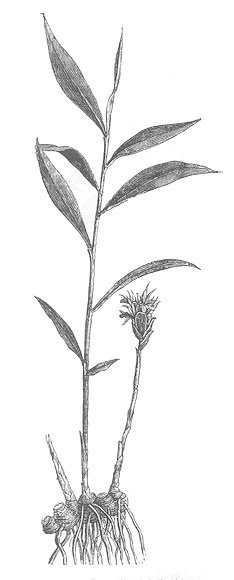 A detail of the plant with the edible rhizomes
Characteristics/ description of Ginger
Perennial plant of the Ginger family – Zingiberaceae – up to 1,8 m. Reddish stems, looking like leaves. Lanceolate leaves and whitish flowers gathered in spikes. Characteristic rhizomes used as a spice and because of their medicinal properties.
Broadly used by the Roman Empire, it was forgot after its fall and it was recovered by Marco Polo in his trip to the East.
It can be found in the wild in many islands of the Caribbean, where it flourishes spontaneously what doesn't happen in warm regions where it is cultivated.
The main producer of the world is Jamaica. Other producing countries are: India and China.
Composition: Active components of Ginger
Acids:alpha-linolenic, linoleic, ascorbic, aspartic, capric, caprylic, gadoleic, glutamic, miristic, oleic, oxalic (root)
Shoagaols (root)
Gingerol (root)
Fiber (root)
Essential oils: citral, citronellal, limonene, camphene, beta- bisolobene, beta-caryophyllene, beta-bisabolol, alpha-farnesene, alpa-cadinene, alfa-cadinol. beta-phellandrene, beta-pinene, beta-sesquiphellandrene. gama-eudesmol,
Amino acids: arginine, asparagine, histidine, isoleucine, leucine, lysine, methionine, threonine, tryptophane, tyrosine, valine (root)
Minerals: aluminium, boron, chromium, cobalt, manganesium, phosphorus, silicon, zinc
Vitamins: niacin
Uses of ginger
Food: used as a condiment, for the preparation of sauces and in the production of beverages.
Medicinal: the root is used for different purposes. (See: ginger for pain)


More information on ginger
This article was endorsed by
Julián Masats
- Technical agricultural engineer specialized in horticulture and gardening.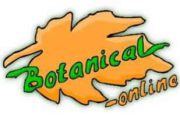 Written by
Editorial
Botanical-online team in charge of content writing