What is a woundwort?
Characteristics of woundwort (Anthyllis vulneraria)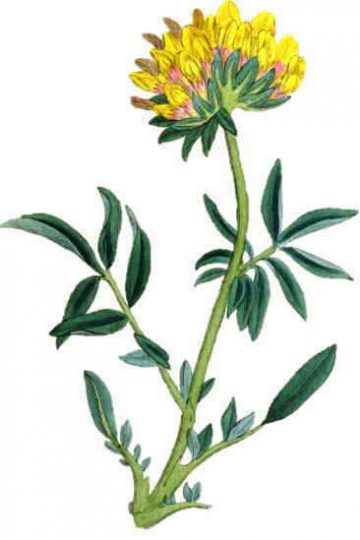 Common name: Kidney Vetch, Woundwort, Ladies Finger
Scientific name: Anthyllis vulneraria L.
Etymology: the name Anthyllis comes from the Greek words "anthos", which means "flower", and "ioulus" which means "hair". This name responds to the fact that it is a plant covered with a patent whitish hairiness, especially in regard to the calyx of the flowers.
Family: Papilionaceae
Habitat. Where does woundwort grow?
Woundwort is native to calcareous soils, and its distribution reaches practically all of Europe, North Africa and America, and Southeast Asia.
It is a plant with different subspecies that present different shades of color. Among all of them stand out:
Anthyllis vulneraria L. subsp. alpestris (Ascherson & Graebner): with large inflorescences. Lower leaves undivided. In alpine areas on pastures, meadows or rocky areas.
Anthyllis vulneraria L. subsp. praepropera (A. Kerner): with purple, reddish or pink flowers. In Mediterranean areas.
Description of the plant
Woundwort is a prostrate or ascending perennial herb of the Papillionaceae family, up to 50 cm in length.
Silky pubescent stems.
Green leaves on the upper surface and silky white on the underside, pinnate, with up to 6 pairs of leaflets, the lower ones presenting fewer leaflets than the upper ones and the terminal leaflet very prominent.
Yellow flowers, more rarely pink, reddish or white, gathered in heads and protected by the lower part with a pair of bracts reminiscent of leaves. Calyx with very prominent hairiness, swollen with a narrower upper part. The flowers are hermaphroditic and pollinated by insects.
The fruit is a small oval pod.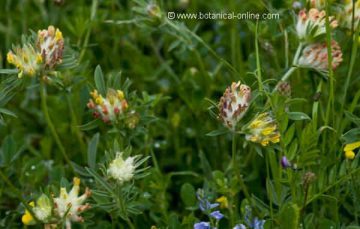 Parts used
– The leaves and flowers are prepared in infusions.
Components of woundwort
Mucilage
Tannins
Saponins
Flavonoids
Anthocyanins
Uses of woundwort
This herbaceous plant of the Papillionaceae family is used as:
Forage: This herb is used as a pasture for livestock.
In the production of beverages: This plant is used to flavor alcoholic beverages.
As a medicinal plant


More information on woundwort
This article was endorsed by
Julián Masats
- Technical agricultural engineer specialized in horticulture and gardening.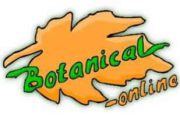 Written by
Editorial
Botanical-online team in charge of content writing