Benefits of eating yogurt with papaya
MEDICINAL PROPERTIES OF YOGURT WITH PAPAYA
Curative recipe: Yogurt with papaya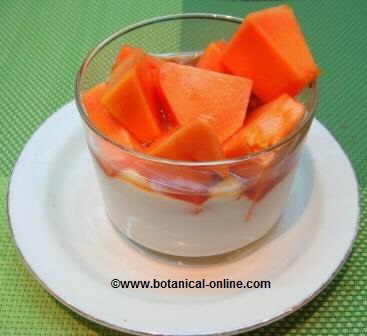 Suggestion of presentation of the recipe. Optionally you can add concentrated apple juice, honey or molasses.
A papaya o is a tropical fruit rich in sugars, fiber and beta-carotene. In this recipe, we accompany it with skimmed yoghurt, resulting in a combination rich in proteins and low in fat.
It is suitable for breakfast, as a dessert or snack.
What are the benefits of papaya?
Papaya is an excellent food for the stomach and skin.
It should be taken by people with delicate stomachs, gastritis, stomach ulcers or skin diseases such as dermatitis and psoriasis.
In addition to being a nutritious, papayas are rich in a component called papain or papayotin. This enzyme is very interesting in the diet because it helps digestion by breaking down the proteins, thus avoiding slow digestion and the formation of gases.
* More information: Properties of papaya.
What does yogurt bring me?
Yogurt provides essential amino acids, necessary for the proper functioning of the brain. The vitamins in yogurt help us to be with more energy.
Unlike milk, yogurt contains few carbohydrates and the benefits of probiotics, so it complements perfectly with papaya.
recommendations
Whom is papaya with yogurt specially recommended for?
It is a recipe very suitable for children and students, since it is very nutritious.
Athletes who want to increase muscle because it provides an "extra" protein to the fruit, in addition to its antioxidants.
Pregnant women, because the high dose of beta carotene helps to avoid stretch marks, and yogurt is an important source of calcium.
During weight loss diets, because it provides satiety and only contains 85 Kcal.
Smoking people, because papaya helps counteract the oxidant effects of tobacco.
In old age, because it is nutritious, prevents constipation and provides probiotics for the intestinal flora.
Nutrients
Papaya

100 g.

Skimmed Yogurt

125g. (ration)

WHOLE RECIPE
Calories (Kcal.)
39
45
84
Fats (g.)
0,14
0,3
0,44
Carbohydrates (g.)
8,81
6,63
15,44
Proteins (g.)
0,5
4,3
4,8
Fiber (g.)
1,8
0
1,8
Potassium (mg.)
257
187
444
Sodium (mg.)
3
67
70
Phosphorus (mg.)
5
109
114
Magnesium (mg.)
10
13,7
23,7
Calcium (mg.)
24
140
164
Vitamin C (mg.)
61,8
1
62,8
Vitamin A (UI)
284
0,8
284,8
Vitamin B 1 (mg.)
0,03
0,04
0,07
Vitamin B 2 (mg.)
0,03
0,19
0,22
Niacin (mg.)
0,34
1,2
1,54
Folic acid (mg.)
38
4,7
42,7


More information on papaya.
This article was endorsed by
Elisenda Carballido
- Dietitian nutritionist. Postgraduate in Phytotherapy and master in Nutrition and Metabolism.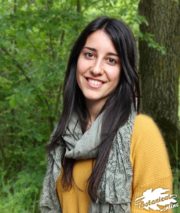 Written by
Elisenda Carballido
Dietitian nutritionist. Postgraduate in Phytotherapy and master in Nutrition and Metabolism.