How to grow climbing plants
USES OF CLIMBING PLANTS
Vines to decorate your garden
Climbing plants or vines are ideal for the garden, especially usable in gardens of small size, since its vertical growth allows its use in areas where we have little surface.
When climbing on walls, columns or poles, they can be used to decorate those little spaces.
Even if they grow on new surfaces, they simply allow them not to appear naked.
Some useful vines to use on a wall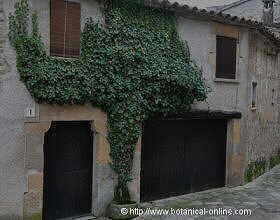 Ivy is a plant that is used quite frequently in the decoration of facades of stately houses, as it appears in this photograph. The bright green of its leaves combines very well with the stone
The sight of the hanging and aromatic flower clusters of wisteria decorating the wall of a house, or the greenery of the leaves of the ivy on a wall or column provide a beauty superior to that offered by the stone or the bare brick.
Virginia ivy leaves with their spectacular blood red are commonly used in many walls of patios and facades, reaching heights of up to 30 meters, providing a wonderful visual spectacle when autumn arrives.
Vines to perfume the environment
Jasmine, honeysuckle or clematis are especially known for their fragrances. In addition to the pleasant aromas of many climbing plants, it is necessary to emphasize the colorful colors that their leaves offer us, especially in autumn, and the variety of their flowers, of which we have a broad range that can cover all the seasons of the year.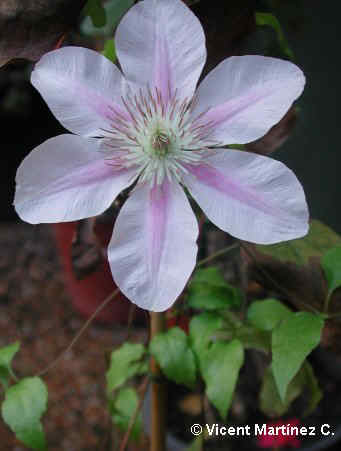 Clematis are very interesting vines because of their beatiful flowers
Practical uses of vines
Climbers form an excellent habitat for birds. Its aromas and colors attract many insects and creatures offering great vitality to the garden. Most of them are beneficial to eliminate pests and diseases from plants.
Climbers can be used to decorate fences or gates and, at the same time, serve to provide insulation in places where we are interested in maintaining greater intimacy or less acoustic impact from the outside.
They can also provide shade and protection from the summer heat. Pergolas covered with climbers are used as refreshing spaces in places with especially hot summers.
Climbers to combine with other garden plants
Climbers can also be used to complement trees and shrubs, especially those older and with little foliage on whose trunk and branches can ascend taking advantage of the holes through which penetrates abundant light. Climbing rosebushes or summer clematis, for example, combine with this type of tree or with other leafy trees, such as fruit trees, to fill the voids.
When woody climbers are combined with other herbaceous climbers, in addition to offering them a good support, they allow to cover the different seasonal needs. Annual herbaceous climbers help fill the gaps left by woody climbers until they reach adequate growth to fill the space by themselves.
Other annual climbers, like nasturtium, can be used to complete massifs. It is enough to give them support so they can climb easily,
Which climbing plants are the most convenient?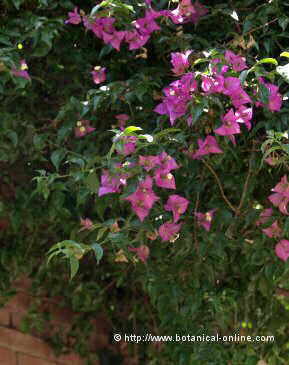 Bougainvillea is a climbing shrub that it is usually seen decorating gates and walls in warm and protected places.
The choice of climbing plants will depend on several factors:
The size of a climber: Some climbing plants only reach a few centimeters and others can climb more than 20 meters. Therefore the growth of a particular plant must be taken into account.
Orientation and situation: Some climbers, like grapevines, prefer sunny and warm locations, specially those oriented to the south. Others, like ivy, prefer cooler places.
In the sunny places it is not the same those who receive the sun in the morning, (the ones oriented towards the east), than those who receive it directly all afternoon, (the ones oriented towards the south)

Nor is it the same to plant a climber in a ventilated place in the center of the garden, next to a stand, than to plant next to a wall or a fence, which reflects the heat of the sun and can damage it when temperature it is not adequate, especially when a wall faces south.

Thus, for example, passion flower is suitable as a climber to decorate a south-facing wall, but a climbing rose should be located next to an east-facing wall where it gets the morning sun but can be damaged by the strong heat of the sun if we placed it in a south orientation.

Some of these plants, like wisteria or clematis, prefer to have some parts outside the sun and roots in the shade. Therefore it is advisable to cover the floor with some other plant or with some stone so that the solar rays do not warm it too much.

Other plants, such as ivy, should not be planted in a sunny orientation as they do not support either of the two previous orientations and prefer the freshness provided by a shady wall, that is the one that provides a northern orientation.
The combination with other plants: When combining climbers it is advisable to take into account how they combine with themselves or with other plants. If several climbers are combined, they should be mixed with a flowering partner that allows to carry out the pruning at the same time. That is when they cease to bloom without that can harm the partner that is still in flower.
When using climbers in the orchard it is better to use annual climbers because their roots are less deep and will not interfere with the cultivation of vegetables.
Techniques for planting climbing plants?
At the time of planting a climber we must have in mind all previous appropriate preparation and techniques of planting and fixing that will allow the climber to grow properly.
Preparation of the ground: The first thing we have to take into account is that the ground where the climber is to be planted must be perfectly prepared. The first thing that is required is to rid the soil of weeds, something that can be done manually or by herbicides.
Climbing plants generally need a soil rich in organic matter, so we will dig a good hole approximately twice the size of the roots so that the vine can have enough loose soil to spread easily. We will add the soil from the pit or garden compost. In case of very poor land, you can add a little fertilizer above.
How to plant a climbing plant ?: Once the ground is prepared the climber should be planted taking into account the distance of planting, especially when using a support that already exists, such as a fence, a wall, a tree or another one. In these cases, the planting distance will be different from when a self-supporting stand is used.


More information on climbing plants
This article was endorsed by
Julián Masats
- Technical agricultural engineer specialized in horticulture and gardening.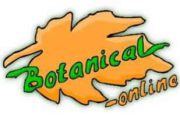 Written by
Editorial
Botanical-online team in charge of content writing