Is an isoflavone supplement the same as eating foods with soy?
What is the difference between food and supplements with isoflavones?
When talking about scientific studies or news about the benefits of soy for cancer, for menopause or for any other affectation, it is important to keep in mind that the benefits of soy foods are not the same as the properties of the supplements of isoflavones.
Nutritional differences between soybeans and soy supplements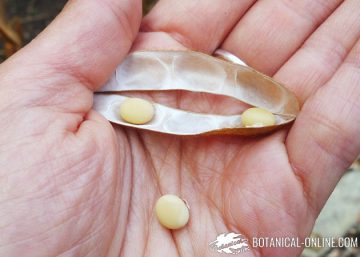 The most obvious difference between these two products is that soy and its derivatives have nutritional properties that supplements lack. Eating soy is an economical and healthy way to get lots of protein, fiber, vitamins and minerals, with hardly any fat. In addition, there is a big difference in the isoflavones they contain.
Differences between isoflavones in food and in supplements
The supplements contain very high and highly bioavailable amounts of isoflavones that are not found in any other food or natural product. Therefore, its effect is very different from the isoflavones found in soy foods.
What does it mean that the isoflavones in the supplements are more bioavailable?
What many people do not know is that isoflavones (those components of soy with hormonal effect to compensate for the estrogen deficit in menopause), is that these components have no immediate or permanent effects on the body.
On the one hand, soy should be ingested regularly to obtain these components of soy. In addition, it is necessary that the intestinal or microbiota flora activate the isoflavones of food to convert them into an absorbable and assimilable compound. That is, soy isoflavones have to be metabolized by the intestinal flora to release their antioxidant and protective compounds against cancer.
For these two reasons, to obtain the benefits of soy it is necessary to consume it regularly.
Soy differences and supplements
The main differences between supplements and foods with isoflavones are:
The bioavailability of isoflavones: Isoflavone supplements contain isoflavones in the form of aglycones, which are easier to absorb. In soybeans they are in the form of glycosides, which must be transformed by the intestinal flora to assimilate.
Important difference in the amount and bioavailability of isoflavones in foods and supplements. In a supplement it can contain between 30 and 60mg. of isoflavones, already activated (very high absorption), and in only one pill: a lot!
Comparison between soy and soy supplements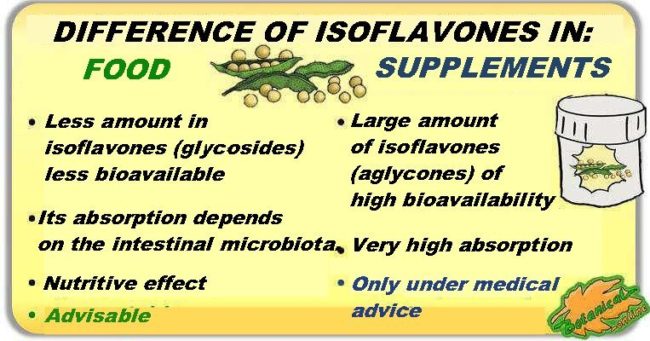 To illustrate this article with an example, see that a single capsule of soy isoflavones contains between 30 and 60 mg of activated isoflavones. On the other hand, in 100gr of cooked tofu there are 22gr of "non-activated" isoflavones, of which only a part will be absorbed (depending on the intestinal adaptation).
Therefore, the absorption and effect of soy consumption is totally different from the effect of supplements. This notable difference in the composition and quality of food and soy supplements means that the effect of feeding with soy cannot be equated with supplementation.
Food isoflavones and supplements
Going deeper into the matter, the absorption of isoflavones from supplements is greater than in foods because the supplements have isoflavones in their active form (aglycones), so that they do not need to be transformed at the intestinal level to be absorbed. Therefore, all ingested isoflavones are directly assimilated.
In contrast, only a small amount of isoflavone is absorbed in food because they are in the form of glycosides, and have to be degraded by the intestinal microbiota to assimilate. (More information).
Supplements are not as nutritious as food
In isoflavone supplements there are no vegetable proteins, calcium, vitamins or many other nutrients present in soy and its derivatives that contribute to its properties. Therefore, the benefits of soy consumption can never be equated with the effect of soy supplements, which can be harmful and have important contraindications.
Are isoflavones supplements recommended?
There is much to investigate on the effect of isoflavones. At the moment no study is conclusive and,therefore, it is not recommended to take supplements with isoflavones.


More information on isoflavones
This article was endorsed by
Elisenda Carballido
- Dietitian nutritionist. Postgraduate in Phytotherapy and master in Nutrition and Metabolism.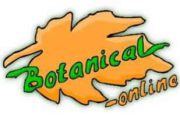 Written by
Editorial
Botanical-online team in charge of content writing