Traditional dishes with green bananas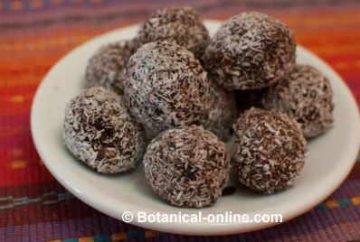 Green banana recipes
Raw, thinly sliced ​​or squared, in salads.
Sweet plantain desserts
Green banana and cocoa truffles: With green banana, desserts and cakes are made, ideal for celiac or allergic to gluten. A truffle dough is prepared with the green banana, cocoa and grated coconut.
Baked green banana dessert: It is a typical Venezuelan dessert that is prepared with a ripe plantain. Cut crosswise, Put some butter  inside and some  cheese on top. Bake in the oven for 25-30 minutes.
Brownie without flour: Ideal in gluten-free diets. With green banana, dates, nuts and cocoa.
Fried plantain recipes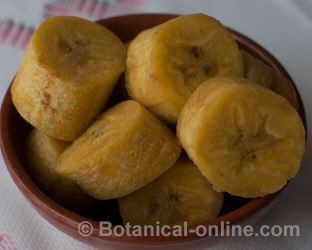 "Patacones" (fried green plantain): Cut it into sheets, crush and fry. Place absorbent paper to remove excess oil. The best oil for frying is olive oil or coconut oil. The drawback of this preparation is that it contains a lot of oil and that most of the vitamins of the banana are lost in frying.
Fried banana nests: Pass a raw banana through the thick part of the grater to make little balls with the threads that are formed. Fry and serve. (Place absorbent paper under them before serving to absorb the excess of oil)
Boiled plantain recipes
Boiled banana with vegetables: Cook it like a vegetable to get its benefits. It is boiled with some vegetables, such as green beans, peas, carrots, zucchini, … Its cooking time is slightly longer than most vegetables, similar to that of potatoes (between 10 -13 minutes). Drain, season with oil and serve.
Plantain mashed with green:Boiled and crushed. You can add cheese, egg, turmeric, a vegetable sauce …
Sancocho: Traditional recipe made with meat stock and different vegetables, cassava, chili, onion, potato and green banana.
Vegetable cream with green banana: We proceed to prepare a vegetable cream: brown an onion, add a green banana,  vegetables (pumpkin, zucchini, carrots, broccoli, chayote, …) and add water until covered, cover, cook for  40 minutes over medium heat, crush and serve. Optionally,  add coconut milk or cheese.
Green banana cakes: The ends are cut and the banana is divided into two halves. They are boiled with the skin, when it comes off, it is already cooked, it is allowed to cool for 10 minutes. Then,  crush them to form  cakes . Serve with vegetables, seasoning or jam. Optionally,  gild them  in the oven.
Banana threads : After boiling a banana, pass it through the thick part of the grater and add them to a sauce or sautéed with tomatoes, onion and vegetables.
Baked plantain recipes
Baked "patacones" (Sliced ​​baked plantain ): It is a healthier alternative to industrial snacks or industrial potato chips. It consists of cutting a green banana into slices, drizzling with oil, making sure that the oil reaches all the slices (spray oil can help), distribute the slices on a baking sheet and  bake  for 15 minutes. Take out of the oven, crush them, turn them over, and bake for 15 minutes more.
Baked vegetable skewers: You can prepare vegetable skewers with green banana slices. Cook them in the oven for 25-30 minutes, with a little oil.
* Go on reading: How to prepare plantain before using it in different recipes


More information on plantains and bananas
This article was endorsed by
Elisenda Carballido
- Dietitian nutritionist. Postgraduate in Phytotherapy and master in Nutrition and Metabolism.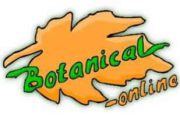 Written by
Editorial
Botanical-online team in charge of content writing