COCONUT COPRA PROPERTIES
What is coconut copra?
Coconut copra is a food product obtained from the drying of the pulp (endosperm) of the coconut seed.
Coconut fruit is the drupe of coconut palm (Cocos nucifera L.).
This fruit is characterized by its big size, because its seed is the largest known after Coco de Mer (Lodoicea maldivica). * More information: Characteristics of coconut.
How is coconut copra obtained?
Mature coconut seed accumulates inside an edible oily, white, solid and aromatic pulp or meat, called "coconut".
The fresh coconut meat has a water content of about 50%. When dry, the humidity falls to 3%, and all their nutrients concentrate, leading to a product called coconut copra.
Generally, coconut copra is sold grated to decorate baked goods or as a healthy snack chips. It can be dried, sweetened and / or toasted.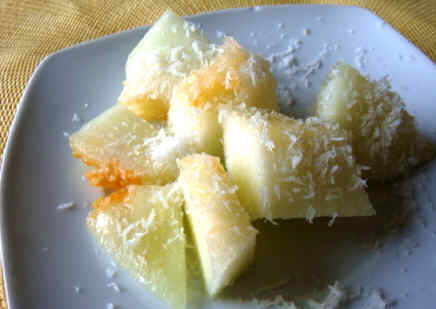 In the picture: melon sprinkled with desiccated coconut copra.
Nutritional value of coconut copra
Water: it is a dried product, so that its water content is below 3 %. This facilitates a better preservation (moisture would allow the growth of bacteria) and also causes a food with concentrated nutrients.
Calories: Coconut copra is very caloric, as it provides 660kcal per 100g. Also, a serving of copra (20g.) estimates that approximately provides 130kcal, being a very healthy snack to add to smoothies, fruit salads, etc..
Carbohydrates: The carbohydrate content is low, as for serving (20g.) ingested less than 1g. of carbohydrates.
Proteins: coconut copra is low in protein, so it is not a remarkable nutrient.
Fats : Fats are the main energizing nutrient of coconut copra, as with other nuts. Also, coconut is one of the vegetables with the highest saturated fat content. This is important because, although it is an excellent energy source, when consumed in excess, coconut can increase blood lipid levels.
Fiber: fiber intake per serving of copra (20g.) is not significant (less than 1 g.). It is therefore interesting to combine it with other foods rich in fiber, such as fruits, grains or vegetables. The daily requirement of fiber is placed on the 35g. daily.
Vitamins: Coconut copra contributes with B vitamins that are important for energy in the body, since they are necessary to metabolize food, besides keeping muscles, skin, nerves and liver in good state. Although some publications may suggest it, coconut does NOT contain vitamin B12, as this is unique in animal foods such as dairy, meat and egg.
Minerals: Coconut copra is a mineral supplement for our desserts. Just as fruit is often poor in minerals, coconut content is much higher than fleshy fruits. Among his notable minerals we must highlight potassium, (diuretic effect); phosphorus (energizing mineral); selenium (a powerful antioxidant) and chromium (it helps regulate blood sugar levels)
Coconut copra is a healthy snack and a complement to our desserts because of its mineral content. In addition, the fat intake contributes with an extra of energy.
Nutritional composition of coconut copra (dehydrated coconut) per 100g.


More information on coconut.
This article was endorsed by
Elisenda Carballido
- Dietitian nutritionist. Postgraduate in Phytotherapy and master in Nutrition and Metabolism.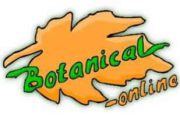 Written by
Editorial
Botanical-online team in charge of content writing