Green bananas preparation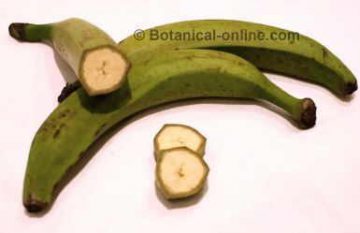 How to introduce  green bananas or plantains  in the diet
Green banana, plantain or cooking banana  is the basis of food in many tropical countries, where it is a very suitable food in these latitudes to replace electrolyte losses, such as potassium, which is produced by sweat or perspiration.
To introduce it into the diet, green plantain can be used as a substitute for rice, pasta or potato, in main dishes.
It is highly recommended in sports diets (pre and post competition), because it is a much richer option in potassium and magnesium than cereals.
It is also recommended in situations in which it is recommended to increase the magnesium intake of the diet: diet for fibromyalgia, osteoporosis, bone fractures, depression, stress, asthma, psoriasis, lupus, etc.
It is a very nutritious food, compatible in any balanced diet. As it does not contain gluten, it is a food suitable for celiac.
How to prepare plantains
Where to buy green bananas?
Green bananas can be purchased in most food stores, markets, greengrocers and supermarkets. This is a tropical product, which can also be found outside its country of origin, for example in Latino food stores.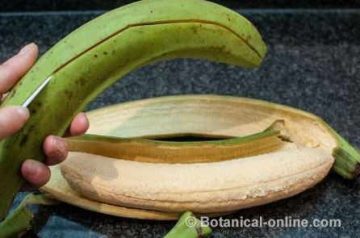 How to peel and boil a green banana?
The ends have to be cut. Green banana has thick skin, which is usually peeled and removed before cooking, although it can also be cooked with the skin.
The skin is thick, we can use the tip of a very sharp knife to make a superficial cut and remove it.
Can we boil a green banana with skin?
Many times the banana is boiled with the skin. It is cut into pieces and a cut is made in the skin with a knife on both sides. When boiled, the banana is known to be cooked when the skin is opened.
How to slice a green  banana?
A green banana is large and is almost always chopped to cook. We make the cuts that best suit our recipe.
It can be chopped small, into pieces about 2 fingers thick, as a vegetable, or to add to soups or vegetable creams. Or just break it into two pieces, then crush it and form a dough, …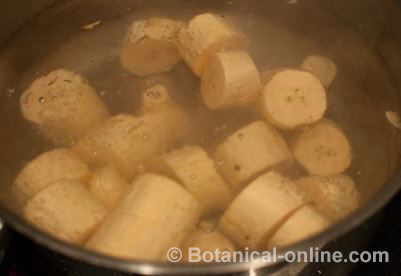 How long should a green banana be boiled?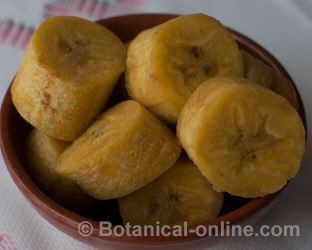 We must put in boiling water for about 10-15 minutes to cook. It is known because the skin comes off, or because the knife easily pierces all the fruit.
After cooking it and water  strained, it can be used in the following ways:
Added to vegetable stir-fries
It can be crushed
It can be added to other preparations.
Once cooked, it is recommended to quickly eat the banana before it cools down, because then it becomes hard and sticky.
Banana cooking water can be used in future preparations, for example to form doughs or purees.
*  Go on reading: plantain recipes


More information on plantains and bananas
This article was endorsed by
Elisenda Carballido
- Dietitian nutritionist. Postgraduate in Phytotherapy and master in Nutrition and Metabolism.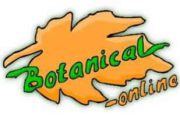 Written by
Editorial
Botanical-online team in charge of content writing