Preparing natural homemade perfumes, with essential oils
How to make homemade perfume with essential oils
Men and women have used perfumes since time immemorial. Smell is a sense that we have something forgotten in consciousness, but that remains very much alive in our unconscious brain. Numerous scientific studies confirm that humans remember many more smells than we think to consciously remember, and this is used for therapeutic properties.
A perfume can transport us to a pleasant afternoon, to moments of yesteryear, or to a feeling of relaxation.
How to make your own perfume at home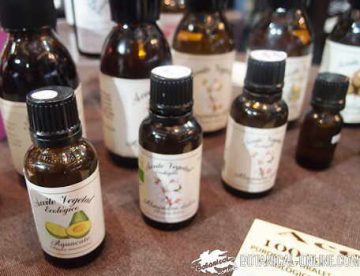 Homemade perfumes are a useful personal resource for a respite of joy, beautiful memories, or peace of mind. And what better way to make our own personal perfume mixing our favorite, natural scents that will transport us and connect us with ourselves and with nature.
All aromas are considered to have a specific effect on the body: pleasant, stimulating, relaxing…
Preparing your own fragrances at home is an excellent practice to do in a group, since it is curious to observe how each person chooses a certain aroma or another, and the perfumes that result from their choice. It can be practiced in a group or family workshop (extreme precautions in children). We assure you that it is a very relaxing and entertaining activity.
Making a homemade perfume
To make a homemade perfume it is necessary to follow a series of rules that allow us to create balanced fragrances, avoiding perfumes that are too strong or intense.
Ingredients to prepare a homemade perfume
Base oil: Serves to dilute essential oils, since pure are irritating to the skin and could cause burns. Generally, the oil used to make perfume is jojoba oil, since it is a non-comedogenic wax, which is light in texture and regulates the secretion of oil from the skin.
Natural essential oils: It is about correctly combining the different essential oils, to get the perfume that we like the most. The perfume can change slightly during its maturation, that is, after making it, it is left to macerate for 2 weeks.
Label and pen to note the combination of essences and the date of manufacture.
Types of essential oils in a perfume
The basic concept in creating a perfume is to correctly combine essential oils. There are some guidelines to respect to make successful perfumes, with combinations of essences.
We have to distinguish between "top note", "middle note" and "low note" essential oils. We can distinguish the following types of essences:
PERFUME CONCEPT

Schematic illustration of the types of essential oils. Made by © Botanical-online.com
Tope note essential oils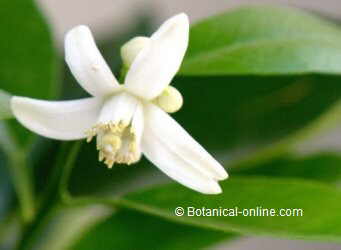 Top note essential oils are the most volatile essences, the first to be felt in the perfume. Generally they are usually intense citrus or floral aromas.
They are attributed properties to lift the mood, tone and increase intellectual concentration. Applied topically, they are very antiseptic.
Types of top note essential oils:
Lemon essential oil
Lime essential oil
Grapefruit essential oil
Thyme essential oil
Citronella essential oil
Laurel essential oil
Cajeput essential oil
Middle note essential oils
They are the "heart" of the perfume, the fragrance that develops slowly but that dominates the perfume and the one that lasts the longest. They are generally floral, sweet, spicy or fresh notes.
They are attributed properties against sadness, emotional blocks and relaxing.
Types of essential oils of middle note
Ginger essential oil
Rose essential oil
Clove essential oil
Litsea essential oil
Santolina essential oil
St. John's wort essential oil (not to be confused with St. John's wort oil)
Low note essential oils
The essential oils of low note are intense or balsamic aromas, that last and permeate all the oil of their fragrance. An example are essential oils with aromas of wood, moss, earth…
They are the ones that are used in less quantity. You start by making the perfume by adding 3-5 drops of low note essential oils.
Low note essential oil types
Benzoin essential oil
Patchouli essential oil
Make a natural perfume with essential oils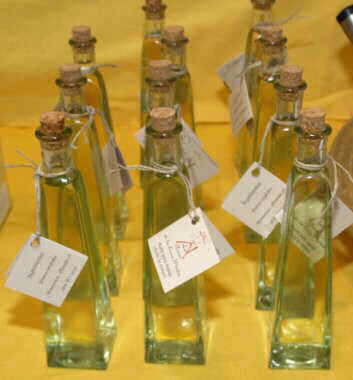 Place 10ml of jojoba oil in an opaque, green, purple or blue glass container.
Mix essential oils into jojoba oil. The different types of essential oils are combined in the following order:

Low note oils are added first (3-5 drops)
Middle note oils (8-10 drops)
Top note oils (8-10 drops)

Write down the ingredients and amounts used in the perfume and stick the label on the perfume bottle.
Cover hermetically and let the perfume marinate for 2-3 weeks. A few drops are applied to a handkerchief to smell at certain times of the day, or to perfume the wrists and neck with a few drops.
Essential oils according to their properties:
*Related information: Essential oil contraindications


More information on essential oils
This article was endorsed by
Montserrat Enrich
- Journalist specializing in edible wild plants and plant uses.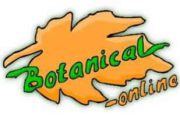 Written by
Editorial
Botanical-online team in charge of content writing