Which are the main properties of different essential oils?
Therapeutic uses of essential oils
The use of these products in dermatology, in nursing and in hospitals has increased considerably, reaching great popularity worldwide, especially in the United States and the United Kingdom.
Among the most prominent effects are those related to its relaxing, antiseptic and anti-inflammatory properties.
It is important to know that essential oils have different compositions, so their applications are also slightly different. However, the reader will observe that the majority of essential oils used have dermatological and relaxing uses.
An extensive variety of essential oils have been shown to have anti-tumor properties in vitro studies, suggesting their possible future use in cancer therapies.
List of main essential oils and their applications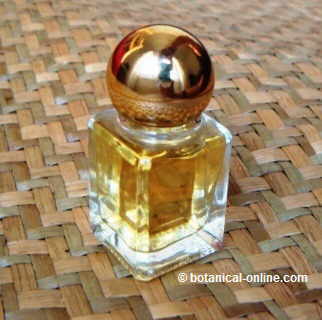 Lavender essential oil (Lavandula sp.): Aromatherapy with lavender essential oil is one of the complementary therapies most used by nurses, and has been shown to lower blood pressure and heart rate, and reduce pain and anxiety.
Massage with lavender oil before bedtime improves the patients' sleep quality, as shown by scientific studies in which different physiological parameters were significantly improved after an aromatherapy massage with this oil.
Tea tree essential oil (Melaleuca alternifolia): Essential oils have very effective antibiotic properties for the treatment of various skin diseases. Tea tree essential oil is the most recommended type of oil for the treatment of acne and possible pathogens that can infect pustules.Tea tree essential oil also has very powerful antiseptic properties, especially against onychomycosis (nail fungus) and candidiasis. One study wanted to see if essential oils were useful for inflammation and menstrual pain. For this, the effect of massage oils was compared with essential oils and massage oils without essential oils and it turned out that abdominal aromatherapy massage with essential oils was more effective in relieving menstrual pain.
Yarrow essential oil (Achillea millefolium) is used in dermatology for acne, burns, cracked skin, cuts, dermatitis, eczema, infections, inflammation, oily skin, pruritus, rashes, scars, sores, ulcers and wounds.
Sandalwood essential oil (Amyris balsamifera) is a recognized anti-inflammatory.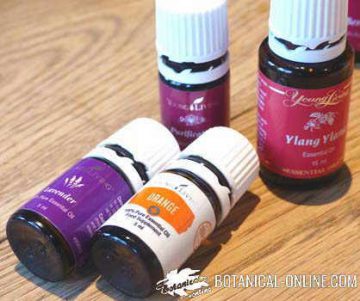 Peppermint essential oil (Mentha X piperita)It has been used for the treatment of irritable bowel
Rosewood essential oil (Aniba rosaeodora) is used for the treatment of acne, cuts, damaged skin, dermatitis, general care, oily and oily skin, inflammation, psoriasis, scars, sores, wounds and wrinkles.
Frankincense essential oil :  ("frankincense" or true frankincense) Derived from plants of the genus Boswellia (resin of Boswellia carterii and the Boswellia sacra) -original of Somalia, it  is used for abscesses, acne, dry and damaged skin , antiseptic, bacterial infections, dermatitis, as an antiseptic, in eczema, fungal and nail infections, healing, inflammation, psoriasis, problematic conditions, regeneration or rejuvenation, scars, sores, tonic, ulcers, wounds and wrinkles. Also in one study it was shown to increase the concentration of estrogen in the saliva of women in menopause, reducing some of its symptoms.
Ylang ylang essential oil: To regulate the production of skin sebum, acne, dermatitis, eczema, general care, oily  conditions, insect bites
Cumin essential oil (Carum carvi) It is used in cases of acne, boils, infected wounds, fatty conditions and pruritus.
Cedar essential oil (Cedrus atlantica) It  is used for acne, as an antiseptic, bad foot odor, cellulite, cracked skin, dandruff, dermatitis, eczema, rashes, fungal infections, general care, genital infections, oily and oily skin, inflammation , insect bites, psoriasis, scabs and ulcers.
Cinnamon essential oil (Cinnamomum zeylanicum) It is used for the antiseptic care of the skin and mouth, gums and teeth, warts and as an analgesic remedy for wasp stings.
Lime essential oil (Citrus aurantifolia) It  is used for acne, bacterial infections, boils, cellulite, congested or oily  conditions, cuts, insect bites, pruritus, tonic, sores, ulcers, warts and wounds.
Neroli essential oil (Citrus aurantium var. Amara)  It is used for acne, improve circulation, dry skin, wrinkles, mature skin and cuts.
Bergamot essential oil (Citrus bergamia) It has highly prized antiseptic properties for athlete's foot, infections, abscesses, blisters, boils, cold sores, such as deodorant, dermatitis, eczema, fungi, anti-inflammatory, insect bites, pruritus, psoriasis, ulcers, chicken pox, herpes and shingles.
Tangerine essential oil (Citrus reticulata) Used in acne, cellulite, oily skin, general care, healing agent, scars and stretch marks.
Myrrh essential oil:  Used for acne, as an antiseptic, for foot fungus, bacterial infections, bedsores, boils, cracked skin, cuts, dermatitis, eczema, fungal infections (athlete's foot, ringworm), inflammation, scars , sores, ulcers, wounds and wrinkles.
The combination of clove essential oil (Eugenia Caryophyllata = Syzygium aromaticum) with rosemary essential oil (Rosmarinus officinalis) is synergistic (more effective than both separately) against Candida albicans (in a ratio of 1: 5, 1: 7 and 1: 9 respectively).
Chamomile essential oil (Matricaria recutita): In one study the essential oil of lavender was evaluated with that of chamomile essential oil  for the healing of ulcers, diluted in grape oil (6%). Four of the five who received the treatment saw their ulcers healed.
What therapeutic uses do essential oils have?
Among some of its benefits we can point out the following:
Essential oils for depression
Essential oils to elevate mood
Essential oils for the skin
Essential oils for hair
Essential oils for daily life
* Related information:
– Are essential oils good for children?
– Essential oils in pregnancy and breastfeeding
– Contraindications and side effects of essential oils


More information on essential oils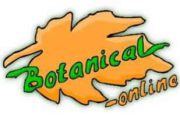 Written by
Editorial
Botanical-online team in charge of content writing