Medicinal properties of mate (Ilex paraguariensis)
BENEFITS OF MATE
Mate, also known as yerba mate, chimarrão or chimarrón is a stimulant tea that is especially consumed on some South American countries such as Argentina, southern Brazil, Paraguay and Uruguay.
For infusion of yerba mate tree leaves of mate plant (Ilex paraguariensis) are used.
Caffeine or "mateine" is the active principle of the leaves of mate, which is an alkaloid with stimulant properties for the nervous system.
In regions where it is traditional, it is usual that this drink is consumed at all hours.
Due to the wide use of this plant, mate tea has been widely studied and its virtues are well known
A stimulant beverage to body and mind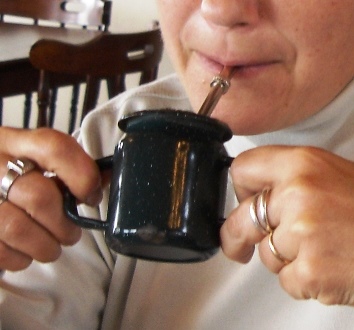 Photo of mate such as it is traditionally consumed
Mate leaves for preparing tea contain 1 to 2% caffeine. Caffeine is a known stimulant, also present in coffee, which acts directly on the nervous system producing the effects of caffeine.
Often, the caffeine found in the mate is called with the name "mateine", although it is the same substance that the caffeine in coffee.
When caffeine is absorbed, it travels through the bloodstream to the brain, where it works. Caffeine binds to a type of brain receptors called adenosine, causing increased mental alertness, wakefulness and promote better association of ideas and greater resistance to fatigue.
Energizing Tonic Tea
When taken matte with breakfast or lunch, burning carbohydrates occurs slowly and progressively, providing constant nourishment to the brain and improving concentration and memory. In athletes, it also prolongs physical endurance (positive doping test for caffeine content).
It increases brain performance and can be used in times of exams or to improve the overall learning capabilities.
How much caffeine does mate have?
It is estimated that 1 hour after drinking mate, from 80 to 100mg of caffeine are consumed, the equivalent of a cup of coffee, with similar stimulant effects. Yerba mate also contains B vitamins that boost energy functions. The stimulant effects of mate are associated with increased sexual libido, being an aphrodisiac remedy.
Mate for physical and mental fatigue
Caffeine in mate is a natural stimulant of the nervous system. It can help treat low mood and depression. Antidepressant effects are produced because of the 40-50% inhibition of the enzyme monoamine oxidase (MAO), which is responsible for degrading the serotonin (neurotransmissor regulating mood).
It is a brain tonic that stimulates, motivates and cheers, counteracting reluctance, passivity and inhibition. It is indicated in cases of nervous fatigue, physical and mental exhaustion, exam times, people under stress.
In some treaties mate appears as a chronic fatigue remedy, although due to the side effects of caffeine, we recommend taking other remedies for fatigue.
*More information on the matte side effects in the listing below.
Mate to lose weight
Mate is used in diets to lose weight because of the following properties:
Reduces appetite: it has been shown that mate consumption suppresses appetite and helps to reduce weight by means of reducing food intake. Mate content reduces blood leptin, a hormone that gives us the hunger signal. By this action, mate decreases the desire to eat and can be an aid in weight loss diets.
Obesity: An animal study showed that mate significantly reduces body weight and food intake in the diet. It also slows gastric emptying time, which increases the feeling of satiety. These results suggest that drinking mate is a very suitable not to eat so much, especially if there is anxiety, compulsive overeating or as an aid when following a weight loss plan.
Increases calorie burn: matte extract could have thermogenic effect and stimulate the burning of calories.
Mate for your heart
– Lowers cholesterol: Mate helps keep arteries elastic and healthy. It has antioxidant properties to protect the body and the cardiovascular system from oxidation and premature aging.
Mate extract lowers bad cholesterol and may have beneficial effects on atherosclerosis.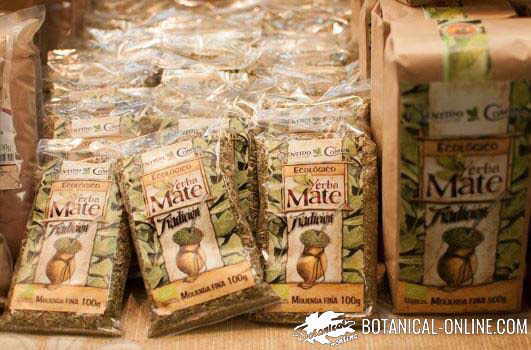 Mate is sold in bags, ready to prepare infusions
Mate for digestion
– Digestive Properties of mate: mate stimulates bile secretion and promotes digestion of fats from the diet. Drinking mate after meals helps to digest fats and heavy meals. Mate is a remedy for slow digestion, and biliary dyskinesia.
In some regions, it is combined with lemon verbena to give better taste to the beverages, and, in turn, this provides the soothing and carminative virtues of the last plant.
Mate dose
– Dry leaves: 2 to 4g. by means of infusion to three times daily.


More information on mate.
This article was endorsed by
Elisenda Carballido
- Dietitian nutritionist. Postgraduate in Phytotherapy and master in Nutrition and Metabolism.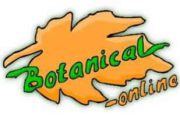 Written by
Editorial
Botanical-online team in charge of content writing