Nutritional benefits of endives
What are endives?
Endives (Cichorium endive) are vegetables.
They consist of long sharped leaves.
Endive leaves are white with the upper ends with a slightly green tone, although there are some varieties of endive having the upper end of a deep maroon.
They are bitter and sweet.
What are the main nutrients of endives? composition of endives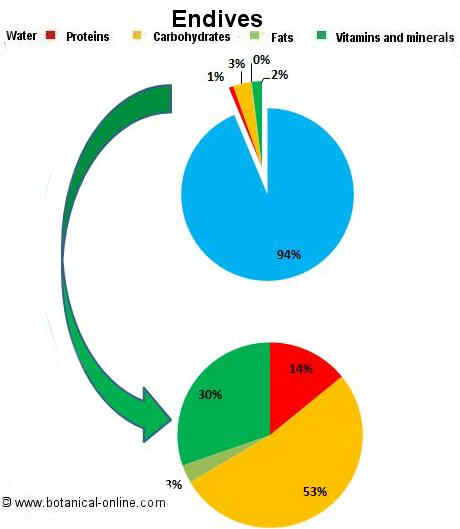 Main components of endives
As an energy source, 100 grams of endive provide 17 kcal.
Their proportion of nutrients are divided into:
Minerals of endives
Endives are rich in potassium. They contain a smaller amount of magnesium, phosphorus, calcium and sodium.
Vitamins of endives
Endives are rich in vitamin A, vitamin C. They also contain fewer vitamin B3 and vitamin E.
Nutritional characteristics of endives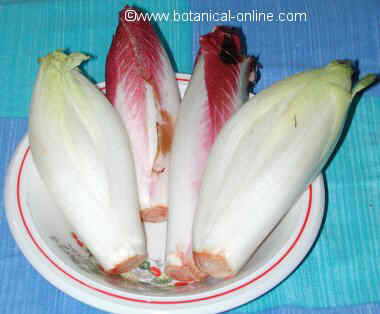 Photo of endives
Endives have a very high water content.
They give us very little energy in the form of calories.
They contain very little fat, quality and health benefits.
They have a low protein content.
They are lowcarb.
They have a moderate fiber content.
They help to remove toxins from our body, because they contain potassium.
Because of their sodium content, they prevent us to become dehydrated.

Photo of a salad of endives
They help maintain our brain function properly, because of phosphorus. In addition, together with calcium, they maintain the balance of the formation of strong bones.
Because of their magnesium content, they help the contraction and relaxation of muscles.
Because of their B vitamins, particularly vitamin B3, they help us get energy from fat, protein and carbohydrate intake and maintain our defenses in good condition.
They protect the skin and help keep it healthy, Because of vitamin A.
They protect us from colds and help heal wounds, because they contain vitamin C.
They protect us from the toxins and aging, because of vitamin A, vitamin C and vitamin E.


More information on other foods and nutrition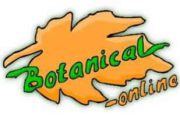 Written by
Editorial
Botanical-online team in charge of content writing