What are endives?
Characteristics of endives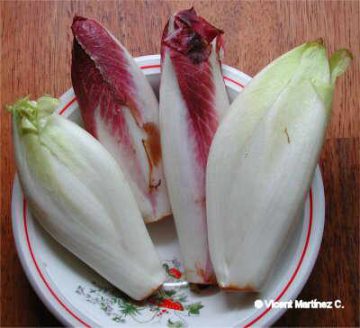 A endive is the cultivated variety of the endive of Brussels (Cichorium endivia), a plant related with the chicory (Cichorium intybus).
All them belong to the daisy family – Compositae. Contrary to the wild species that can be cultivated outdoors, the endive that is sold for human consumption is cultivated by means of a forced technique (Witloof method) so that the light does not touch the leaves and they may acquire the tender and whitish aspect that characterizes them. What is dedicated to the consumption is the offshoots of the tender leaves that grow in the second year of its vital cycle.
How is the cultivated  species produced?
The wild species of endive is very a bitter one and it presents curly leaves and a dark green color for the chlorophyll presence in the leaves.
Using artificial technics of cultivation, a variety is obtained that, because of the absence of light, leaves become white and smooth, at the same time.
This method of cultivation makes it possible to attenuate such a bitter taste of the wild species, what makes it more pleasant to eat, although it keeps a certain bitterness from the wild plant, giving this variety such a special taste.
Properties of endives
Endives, very suitable for digestive problems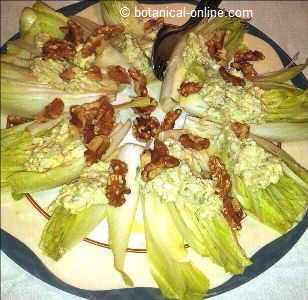 Endive, as well as chicory, is very rich in fiber so that it is extremely useful to regulate the intestinal peristaltism, avoiding the accumulation of feces in the intestine not only avoiding the problem of constipation but helping to evacuate toxic substances, especially heavy metals that would be noxious for the organism and will produce illnesses as a result of their accumulation in our blood. Among such dangerous illnesses we could mention colon cancers.
This vegetable constitutes a balm for the digestive apparatus. Because of its wealth in mucilages, it protects the intestinal mucous, preventing inflammations and avoiding the appearance of certain gastric anomalies as flatulence (meteorism) heartburn, etc. A good endive salad as a starter can constitute a good resource to attain a good digestion.
Endives for weight loss diets
Very low in calories, with almost 94 % of water and with diuretic properties, it is very appropriate in the weight loss diets or obesity treatment since it favors the elimination of corporal liquids increasing the flow of the urine and helping us to lose weight.
Endives to improve blood circulation
As the wild variety, it improves the circulation by making the blood and allowing to circulate it better, helping to eliminate the fat concentrations in the blood stream. It diminishes cholesterol levels and prevents arteriosclerosis.
As a result of its particular cultivation, we can say that this plant possesses very little vitamin C quantity, an element that a vegetable can only synthesize with the presence of the light, although it owns interesting minerals, mainly calcium and magnesium. It is quite rich in pro-vitamin A (Betacarotenes), what grants it antioxidant and anticancerous properties.
Because of these all properties, we should not forget endives as a part of our meal. For their beneficial properties for the digestive and circulatory system, as well as for their peculiar taste. The best way to eat them raw in salads, especially when they are accompanied of the appropriate sauce as those made with yogurt and cheese.
Recipe of endives with Roquefort cheese
Ingredients:
4 endives
100 gr. cheese of Roquefort
200 gr. liquid cream
Thyme
Preparation:
Clean the endives and divide them lengthwise. Prepare the Roquefort sauce (Put the cheese in a saucepan, add the cream and stir them in slow fire.)
Place the endives in a round tray forming a circle round the borders,cover them with cream and sprinkle some leaves of thyme.
Composition of endives per 100 gr.
Raw
Water
93,7 gr.
Energy
17 Kcal
Fat
0,20 gr.
Protein
0,89 gr.
Carbohydrates
3,3 gr.
Fiber
3,1 gr.
Potassium
314 mg
Phosphorus
28 mg
Magnesium
15 mg
Calcium
52 mg
Sodium
22 mg
Vitamin C
6, 5 mg
Vitamin B2
0,07 mg
Vitamin B6
0, 02 mg
Vitamin A
2050 IU
Vitamin E
0, 44 mg
Niacin
0,4 mg
Source: USDA Nutrient Data Base


More information on plants
This article was endorsed by
Elisenda Carballido
- Dietitian nutritionist. Postgraduate in Phytotherapy and master in Nutrition and Metabolism.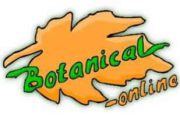 Written by
Editorial
Botanical-online team in charge of content writing