What is quinoa good for?
History of the consumption of quinoa
Quinoa was the staple food of the Aztecs and Incas. Its use dates back 5.000aC. Specifically, the Incas considered quinoa a sacred food and gave it the name "Mother Grain". The tradition lasted in the the Andean region because of the ease of cultivation of this plant and its adaptability to the environment.
Quinoa also takes part in the rituals of these pre-Columbian cultures. With the establishment of the Spanish conquerors, they ordered to raze the fields of quinoa and punish those who cultivate it, because it belonged to the pagan rituals. This significantly undermined quinoa crops in the region, replacing it with corn and potatoes.
Even today, Native Americans of the Andes, mainly in Peru, Bolivia and Ecuador, are familiar with the medicinal virtues of quinoa.
From this plant they use the seeds, leaves, stems and ash to cure more than twenty ailments and conditions, among which we can point out: liver abscess, liver, toothache, angina, fever…
Quinoa is used in dressings or poultices, as soothing and anti-inflammatory for urinary tract catarrh. It is caustic for wounds and sores. It heals bruises, sprains, shocks, internal bleeding or suppuration. It is diuretic, lactiferous, insect repellent,, digestive, vermifuge and emetic.
American scientists were the first to be interested in the quinoa plant and implemented the first crop of the U.S., in Colorado. They are interested because this plant can enhance the performance properties of the soils and it is fit for all soil types. It is also a plant resistant to adverse weather conditions, such as frost and drought and their uses are varied.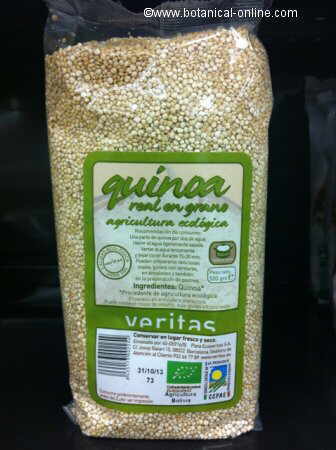 Photo of dietary quinoa grain
Edible uses of quinoa
Its use in food allows for many variations. The leaves are used as a vegetable, panicles as a delicacy, and grains is typically cooked as cereal. We must point out the high nutritional its rich content in protein and carbohydrates..
Quinoa has been selected by FAO as one of the crops to provide food security in the next century.
Although undoubtedly the boom that drove this grain to fame was due to the research center of NASA, that studied the qualities of quinoa and recommended it to feed astronauts on their space travels.
The majority of quinoa production in the world is still in the South American countries, where the plant originated and where there more varieties of this plant can be found. Among the main producers we have: Peru, Bolivia, Colombia, Ecuador, Argentina and Chile. It is also produced in Colombia, Himalaya and Finland.
How to cook quinoa
– Quinoa grain: It is used as a cereal.
– Quinoa leaves: they are only consumed in the native growing areas. The leaves should be boiled in advance to reduce its oxalate content. Grain consumption is not recommended because it contains saponins.
– Swollen quinoa: Quinoa is processed through an extrusion process. It is used mainly for muesli and breakfast cereals. It is specially important in the celiac diet.
– Quinoa flour: used especially in vegetarian cooking to enrich the dishes with amino acids. It combines well with cereals and legumes.
– Quinoa biscuits, toasted quinoa: An alternative snack to common wheat toasts. Ideal for coeliacs.
(More information about quinoa recipes in the listing below)
Where to buy quinoa?
Quinoa that is distributed in the different outlets has been washed to remove the saponin content. It can be bought in:
– Dietary shops, often marketed as organic quinoa.
– Hypermarkets, in special sections for celiac
– Gourmet Shops
– Local markets
– Online shops: perhaps the most practical way to obtain it if not found in the above sites.
How to preserve quinoa?
As with other grains, the most safe and effective way to preserve it or tis flour in perfect condition, after unpacking, is in an airtight container in a dark, cool and dry.
It is recommended not to store the grain for more than a year or the quinoa flour for more than 3 months.
What is the price of quinoa?
– Quinoa from organic farming: its price ranges from 6 to 8 € / kg.
– Quinoa "multicolor" (variety of seed): The price is about 11 € / kg.
– Extruded or puffed Quinoa (for muesli): The usual price is about 20 € / kg. It is sold in packs of 250g for 5 €.
– Flour of quinoa: About 10 € / kg.
– Toasted ecological quinoa: About 27 € / kg, sold in packs of 100g to 2.70 €.
– Quinoa pasta (spaghetti, spirals, etc.). About 6 € / kg. Packs of 500g to 3.20 €.
– Paps for celiac children with quinoa: About 15 € / kg.
Other uses of quinoa
According to WHO (World Health Organization) and FAO (Food and Agriculture Organization), quinoa has been determined as the ideal food for humans because it contains the best balance of proteins, providing multiple forms of use, and being highly resistant to adverse environmental conditions.
Industrial uses of quinoa plant
STEM
– Efficient in the manufacture of paper and paperboard.
LEAVES
– Preparation of salads and cooked vegetable dishes

– Flour

– Dye

– Silage

GRAIN
– Flour and derivatives: biscuits, bread, pasta, pastries, purees, vegetarian burgers and preparations, sauces and sweets.

– Drink of quinoa

– Extruded Cereals (a type of breakfast cereals). They are also used in extruded cereal bars and cakes.

– Quinoa starch may also be employed as thickening additive in pharmaceutical products, manufacturing of talc and lip, facial and dental creams.

SAPONINS
– Brewing

– Shampoo

– Detergent

– Toothpaste

– Pesticides

– Antibiotics


More information on quinoa.
This article was endorsed by
Elisenda Carballido
- Dietitian nutritionist. Postgraduate in Phytotherapy and master in Nutrition and Metabolism.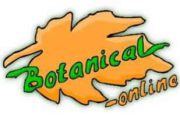 Written by
Editorial
Botanical-online team in charge of content writing