BENEFITS OF GYOKURO TEA
What is Gyokuro tea?
Gyokuro tea is the kind of " ryokucha" (Japanese green tea) most prestigious and appreciated in Japan.
Gyokuro Japanese translation is " jade dew " (pearl jade dew or dew).
It is mild, sweet and pungent, somewhat reminiscent of seaweed, because it is grown in coastal locations. It presents no astringency.
This is a premium tea, the most expensive of all Japanese ryokucha due to its careful elaboration. Like all top quality teas or premium, traditionally the same load of this tea is used to prepare all through the day, because its flavor is lasting.
Gyokuro tea harvesting can only be done once a year, in spring: 20 days prior to collection of tea buds, the plants are covered with nets to provide shade and protect them from the sun.
The shadow makes this tea buds contain more caffeine, and far more chlorophyll and polyphenols than any other type of tea. This is distinguished because of the bright green leaves and because it is the green tea with more caffeine.
Gyokuro tea is the top quality green tea type all over the world.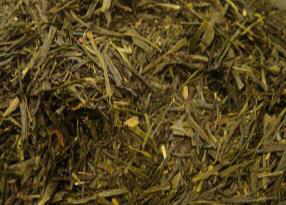 Photo of Gyokuro tea.
Gyokuro tea properties
Gyokuro tea is a type of tea unique and exclusive, with very healthy properties:
– Tonic : This caffeine -rich tea has to be a very effective tonic for the nervous system, suitable for those decayed, when mild depression , etc.. If taken after meals, it helps in digestion by stimulating digestive functions.
– Cholesterol: Gyokuro tea provides the benefits of tea catechins and other polyphenols it contains, as this is the type of tea richest in antioxidants. These components, along with their anti -aging properties, benefit the circulation of the blood. Antioxidant components protect fats from oxidation and prevent poor circulation.
– Thinning: This is a tea rich in polyphenols, which also fight cholesterol. Its diuretic properties are provided by minerals such as magnesium and potassium, so it is a very suitable tea for obesity problems and fluid retention. (See: Green Tea Diet).
– Dental Caries: Scientific studies have shown that regular consumption of tea is associated with a lower incidence of dental caries among the population. These effects can be explained by the high fluorine content of green tea, or by the bactericidal properties of tannins in tea (Gyokuro tea is one of the richest in fluoride and tannins).
* More information: Properties of green tea.
How to prepare Gyokuro tea?
Preparation:
– At 80 º C infuse teaspoon Gyokuro tea leaves (5 g.). Never boil it.
– Cover and let stand 3 minutes.
– Serve hot with no milk. The same herbs in this infusion can be used for all infusions of the day (3-4 cups).
This type of tea can be served cold, adding the double amount of dry leaves and pouring the tea into a glass with ice.
* More information: How to prepare a good tea


More tea types and information about tea
This article was endorsed by
Elisenda Carballido
- Dietitian nutritionist. Postgraduate in Phytotherapy and master in Nutrition and Metabolism.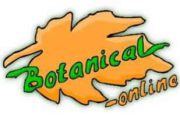 Written by
Editorial
Botanical-online team in charge of content writing