Camellia sinensis
CHARACTERISTICS OF GREEN TEA
What is green tea?
Green tea is a mildly stimulating drink that is obtained from the leaves of the tea plant (Camellia sinensis). This tea is consumed primarily in China and Japan, where it is one of the most consumed teas. It is also drunk in other countries such as Morocco, which take a lot of Gunpowder tea with mint and sugar.
Green tea is different from other types of tea because it is the least oxidized during processing and, therefore, it contains the largest number of tannins and antioxidants.
For this reason, green tea is an excellent ally in cleansing and slimming diets because it helps to burn fat and lower cholesterol. In these cases, it is important to prepare it with sugar (or stevia can be used as sweetener).
Because green tea is a little rusty, still retains the green color in their leaves, reason why it is called "green tea ".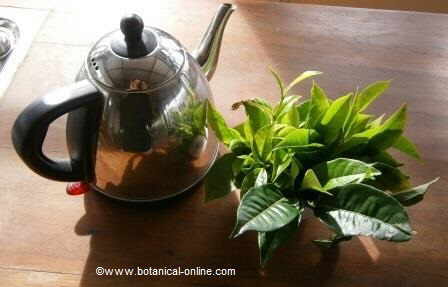 Photo of infusion with tea leaves
(Camellia sinensis)
How do you drink green tea?
Green tea can be drunk hot or cold. The only difference is that, if we want to take it cold, we must add twice the amount of tea in the tea, and we must serve it in a glass with ice.
Preparation requires a 80 ºC infusion of a teaspoon of tea leaves (2 – 4g.). Never boil. Cover and let stand 2 minutes.
The green tea infusions usually take greenish -gold look with a very slightly fruity, soft and fresh astringent taste,.
Typically, green tea is taken in the morning, at noon, after lunch or mid-afternoon, as digestive and mildly stimulating drink.
We recommend choosing selected teas and avoid bag teas bought at the supermarket. Most bag teas, with " tea powder " inside, are of poor quality.
* More information: How to prepare a good tea.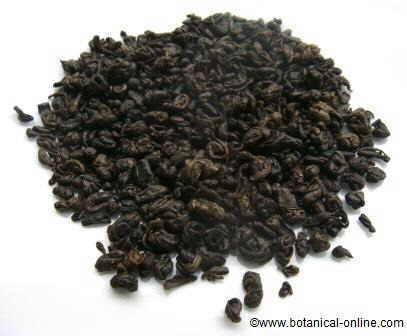 Gunpowder Green Tea We will see the rolled leaves, a sign of quality.
Types of Green Tea
There are numerous varieties of green tea, all very popular in China and Japan. The best known are:
– Bancha: Japanese green tea that has a very low content of caffeine.
– Genmaicha: green tea from Japan mixed with rice and roasted corn. Energetic and very sweet.
– Gunpowder: Boiled with mint and sugar. It is bittersweet and it appears rolled into balls, which open to the hot water.
– Gyokuro: It is one of the most prestigious green teas and one of the most appreciated in Japan. It has a sweet, delicate flavor with no astringency. Light aroma of cut grass.
– Kukicha: Japanese Tea also called " tea three years " is a mixture of leaves and twigs of the tea. Formerly called the tea of the poor.
– Lungjing or Lung Ching: It is the most famous variety of green tea in China. Its name means " Dragon Well ". Sweet and golden, it is a common drink for monks, who have been using it for hundreds of years to clear the mind and calm the nerves. It is grown in the province of Zhejiang in Hangzhou (China).
– Matcha: This is a powdered green tea. Its cooling power is prized by the Japanese, who serve it sparkling in tea ceremony. It is also used to develop recipes and dye.
– Pi Lo Chun or Biluochun: Green tea scented to fruit trees. the small spirals of hand-rolled leaves give it the name, which means green snail. It is produced in the mountainous region of Dongting, Jiangsu Province, China.
– Sencha: Tea originally from Japan, with a fresh and mild flavor.
– Jasmine Tea: Blend (mixture) of green tea with jasmine flowers. Traditionally, jasmine flowers are harvested in the morning when they have not yet opened, and placed over the tea leaves that are drying. The jasmine flowers open up the tea and fill it with its aroma.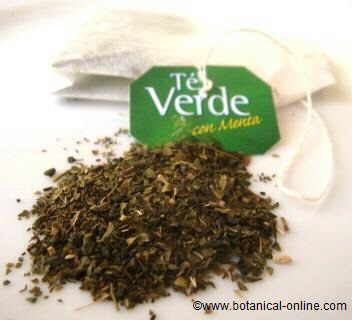 Green tea with shoddy mint. Most bag teas are low in quality and contain very few medicinal components of the tea plant.
Related information on green tea:


More information on tea .
This article was endorsed by
Montserrat Enrich
- Journalist specializing in edible wild plants and plant uses.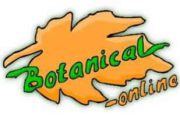 Written by
Editorial
Botanical-online team in charge of content writing