BENEFITS OF JASMINE TEA
What is Jasmine tea?
Jasmine tea is a mixture of leaves of green tea or semi-fermented tea with jasmine flowers (Jasminum officinale).
Jasmine flowers are very aromatic, and are added to this tea during the drying process.
Traditionally, jasmine flowers are harvested in the morning when they have not yet opened, and placed over the tea leaves that are drying. The jasmine flowers open up and fill this tea with its aroma.
In Jasmine teas of higher quality, the jasmine flowers are removed and in tea only remains its exquisite fragrance. This delicate jasmine smell makes it get the name " King of Essential Oils ".
This mixture is traditional in China, and has its origin in the Song Dynasty.
As with all Chinese teas, do not drink it with milk, nor sugar.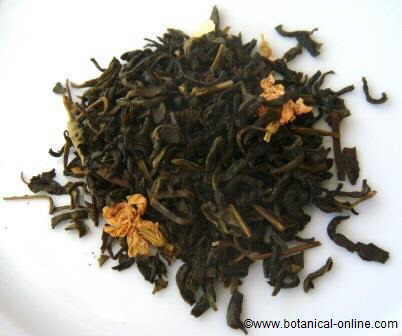 Photo of jasmine tea
Types of jasmine tea
– Jasmine Dragon Pearls: Green tea and jasmine flowers that resemble rolled into "pearls". It occurs in the area of Fujian, China.
– Jasmine Chung – Feng: jasmine tea of higher quality, and that have been removed by hand flowers, and only contains the fragrance of the flower.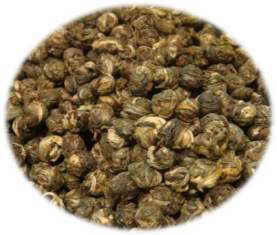 Photo of Jasmine tea, Dragon Pearls.
Properties of jasmine tea
– Booster: Green tea contains theine (= caffeine), which stimulates the nervous system functions and cognitive areas. This drink is suitable for those with sagging moods or situations that require additional physical or mental effort.
Jasmine flowers nervous system tonic properties make this type of tea a very suitable infusion for those with stress, anxiety or depression.
– Anti -aging: The green tea blends are especially beneficial because of its high antioxidant properties. Green tea contains catechins, antioxidants principles that prevent the premature aging of the organism. Furthermore, recent studies have shown that green tea catechins have a thermogenic effect that boosts metabolism and increase fat burning in the body. So, this tea is suitable for those on a slimming diet.
– Gastrointestinal: tea catechins, besides the aforementioned antioxidant and fat burning properties have stimulant properties of gastric secretions and help improve digestion. Jasmine tea can be taken after meals, as it prevents indigestion and is also mildly stimulating to be clear-headed in the afternoon.
– Stimulant: Traditionally, jasmine tea has been used for its properties to increase the desire.
Do not overindulge in highly concentrated preparations or repetitive doses, as, in this case, they can lead to irritation of the digestive tract and cause heart palpitations.
* More information: How to prepare a good tea.


More information about tea.
This article was endorsed by
Vicente Martínez Centelles
- Founder of the web and director. Teacher of natural sciences, expert in plants, natural remedies and botanical photography.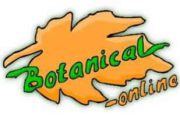 Written by
Editorial
Botanical-online team in charge of content writing