GREEN TEA FOR LOSING WEIGHT
Why green tea is good for weight loss?
Green tea contains a number of principles that favour slimming.
Among the main components responsible for this activity we have caffeine, catechins and minerals.
Theine (= caffeine) is a natural stimulant of metabolism, which leads to burning body fat because of its thermogenic effects.
In addition to caffeine, scientific studies have shown that catechins, a tea antioxidant (mainly in green tea), collaborates to slimming which increases the potential of green tea as an ally in weight loss diets and cleansing diets.
Green tea is the most recommended for weight loss because it contains one of the most potent antioxidants known: epigallocatechin gallate. This component provides very useful aid for weight loss, as well as for poor circulation, and prevents certain types of cancers.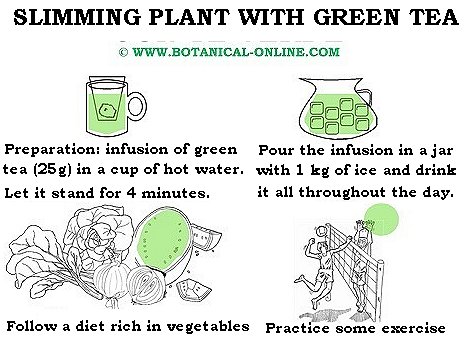 Weight loss slimming plan with green tea. A concentrated infusion is prepared and diluted in a pitcher with ice to drink all throughout the day.
Green tea or coffee to slim: Which is better?
Unlike coffee, green tea diet is recommended because it provides more antioxidants and the same stimulant effects of caffeine, without causing anxiety or nervousness.
Some minerals that tea brings, especially potassium and magnesium, provide diuretic properties that help remove fluids from the body and, therefore, decrease body volume and help eliminate toxins.
People who tolerate the effects of red tea caffeine may also make use of this type of tea for weight loss, because red tea it is a green tea that has been fermented, and, during this process, it has released more caffeine. Red tea is more stimulant than green tea, with similar antioxidant content.
What other properties of green tea are suitable for weight loss?
Apart from the components mentioned, green tea contains lipolytic principles. Lipolytic principles are called those who can mobilize extra fat from the body to eliminate it, getting a body fat loss or thinning. The main lipolytic principles of green tea are limonene and nicotinic acid.
Lipolytic and diuretic principles are added to the stimulant properties of caffeine, theobromine and theophylline. The ability of these components to speed up metabolism promote increased energy expenditure and, therefore, help you burn fat.
How do you take green tea to lose weight?
The best way to use green tea for weight loss is by infusion of the dried plant. We recommend choosing quality teas as they are rich in antioxidants. Green teas " sachets " that are purchased at the grocery store are usually of low quality and with a low content of catechins and minerals . Tea can be taken hot or cold all day.
It is recommended to accompany this remedy with a diet to lose weight.
How much green tea to take to lose weight?
We recommend taking 1 liter of green tea a day, accompanied by a diet rich in vegetables and physical activity.
Individuals sensitive to the effects of caffeine should not drink tea.


More information on tea.
This article was endorsed by
Montserrat Enrich
- Journalist specializing in edible wild plants and plant uses.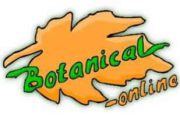 Written by
Editorial
Botanical-online team in charge of content writing