BENEFITS OF RED TEA
Characteristics of red tea
Red tea is a stimulating drink that, like all teas, is obtained from the leaves of the tea plant (Camellia sinensis). This tea comes from China, Yunnan Province, in the southwest of the country.
Red tea is distinguished from other types of tea because it is made with a traditional process peculiar and little known that is not done in any other type of tea.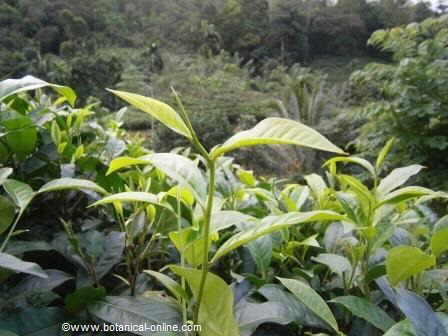 Photo of tea plant (Camellia sinensis)
Process for obtaining red tea
Actually, red tea is green tea, which after processing, it is closed in a barrel and it is inoculated with a type of bacteria selected for the fermentation.
A study shows that the types of bacteria that are added are Streptomyces bacillaris or Streptomyces cinereus.
This tea is fermented for a certain time, and, when removed, it has a reddish color. Product of fermentation, red tea has a higher content of tannins (which have cholesterol-lowering properties) and GABA (they help reduce blood pressure).
In addition, this tea retains most of green tea polyphenols and their properties. According to the maturation time, tea can be more or less expensive (the longer the fermentation, the more expensive it is). Red tea is classified as a post-fermented tea.
Red tea: a tea different from the rest
Unlike any of the other types of tea, red tea is subjected to a proper fermentation since microorganisms are involved.
Depending on whether the fermentation is generated naturally or by technology to accelerate the process, there are two different kinds, green Pu-Erh or black Pu-Erh, respectively. In today's market most Pu-Erh teas are black (not to be confused with black tea).
The second important distinguishing feature that differentiates red tea from other types of teas is the period of time required to obtain it. While other types are made with only hours or a few days, red tea or Pu-Erh tea, takes years, some may even overcome until five or six decades. The longer it has gone into the preparation, aging and fermentation, the higher its value and appreciation in the market.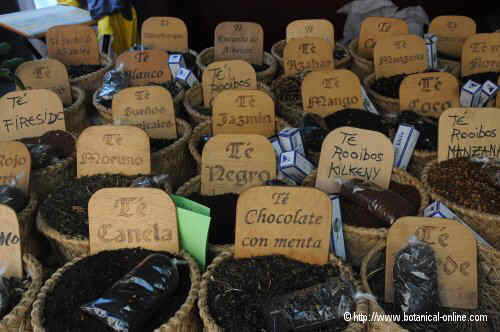 Photo of different varieties of tea in a Spanish market
MEDICINAL PROPERTIES OF RED TEA
– Slightly stimulant: Red tea contains theine (= caffeine), in low amounts, because it is a fermented green tea. This property provides a tonic effect, which in China is taken as a regulator of body functions. Red tea stimulates the functions of the nervous system and cognitive process, allowing better performance in school, at work or in general, in situations that require additional physical or mental effort. In athletes, tea helps to increase power and endurance.
It is also recommended to take this tea when tired, stressed or to treat mild depression. Red tea contains little caffeine and its effects are not as immediate as coffee so it is got slightly stimulating effects without going to the extremes of coffee. (More)
– Thinning: Red tea has a similar catechin content than green tea, as a result, it can be employed in cleansing diets and weight loss diets. Catechins are polyphenols principles which, in addition to their, antioxidant properties, help activate the body's metabolism and increase fat burning. Red Tea Antioxidants also provide cardiovascular health benefits to protect the oxidation of fats, helping to reduce cholesterol and triglycerides.
– Antioxidant: Red tea polyphenols, such as catechins, theaflavins and thearubigins are mainly antioxidants, which occur naturally in the leaves during the fermentation process. These antioxidant compounds protect cells from oxidation caused by smoking, strenuous exercise or stress.
Drinking tea has been identified as a protective factor against cataracts, and in people with smoking habits, protects them from oxidation caused by cigarette smoke.
– Detox Diets: Red tea Is the perfect partner for detox or diet plans for the liver. Scientific studies show that tea, consumed in adequate doses, has a protective role for the liver. The fat-burning effect of catechins helps remove excess fat that the liver seeks to achieve when performing this type of diet.
– Digestive: In China, this kind of tea is popularly used for its digestive properties. Red tea extract was shown to inhibit the growth of bacteria that cause diarrhea as Staphylococcus aureus and Vibrio parahaemolyticus due to its bactericidal properties. This effect is complemented by the astringency of tannins, that also make it suitable to stop diarrhea.
Do not overindulge in highly concentrated preparations or repetitive doses, since, in this case, they can lead to irritation of the digestive tract and cause heart palpitations.Tea extract taken in high or continuous doses have been known to cause hepatitis.
* Related: Tea contraindications.
Types of red tea
How do you prepare red tea?
Red tea can be drunk hot or cold. The only difference is that, if we want to take it cold, we will have to add twice the amount of tea in the infusion, and serve it in a glass with ice.
Preparation: infuse at 90 º C a teaspoon of tea leaves red (2 – 4g.). Never boil. Cover and let stand 3 minutes.
The infusion of this kind of tea has a reddish orange color and with a subtle smoky aroma and intense and characteristic earthy flavor . As with all Chinese teas, do not take it with milk, nor sugar.
Typically, red tea is taken after lunch or mid-afternoon, being a digestive and mildly stimulating drink.


More information on tea.
This article was endorsed by
Elisenda Carballido
- Dietitian nutritionist. Postgraduate in Phytotherapy and master in Nutrition and Metabolism.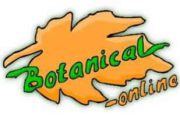 Written by
Editorial
Botanical-online team in charge of content writing