WHEN IS GREEN TEA CONTRAINDICATED?
CONTRAINDICATIONS OF GREEN TEA
When not to use green tea?
The main contraindication of tea is due to its caffeine (= theine) content.
The stimulant properties of caffeine determine that this plant is not recommended in case of weakness symptoms appear, such as nervous or cardiac disorders: palpitations, epilepsy, arrhythmia , heart failure, insomnia, nervousness, etc.. These symptoms may worsen with caffeine.
Green tea increases the production of acid in the stomach . For this reason, it is not appropriate to consume tea in cases of gastric problems such as gastric ulcers, stomach pain, gastric reflux, heartburn, or vomiting. In these cases, tea may worsen these conditions.
Because of its tannin content, tea inhibits iron absorption which is unsuitable for sufferers of anemia.
Catechins, epicatechin, quercetin, rutin and magnesium, in addition to their health benefits, have anticoagulant properties, so it is not suitable for people prone to bleeding or people taking blood-thinning medications.
Green tea should not be taken by those for whom caffeine intake is not appropriate. (See side effects of caffeine)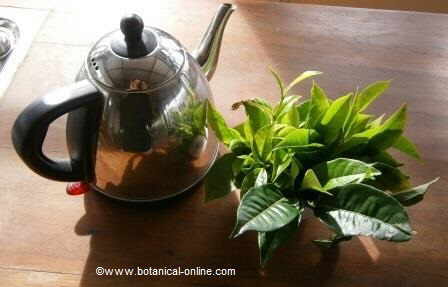 Picture of tea with tea leaves.
Can you drink green tea during pregnancy or breastfeeding?
Energy drinks with caffeine, such as coffee, tea, mate or some plants such as guarana, are not suitable during pregnancy and lactation.
It is not appropriate to consume green tea during pregnancy, especially during the first few months, since it can produce abortions, especially when combined with other stimulants or tranquilizers substances that enhance its effects.
Nor is it appropriate to use green tea while breastfeeding. The green tea components are transmitted from mother to child through breast milk.
Green tea should not be given to children under 12 years.
Can you take green tea with other plants?
Do not take green tea along with other plants with stimulant or sedative properties (ginseng, mate, etc..). If taking medication, or have doubts, you should consult your doctor.
HOW TEA WAS CONSIDERED AT FIRST?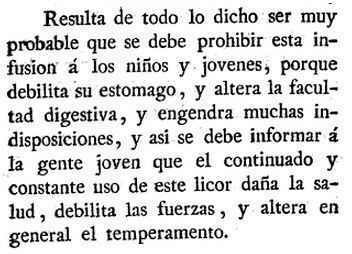 Original text of "Treaty of uses, abuses, properties and virtues of snuff, coffee, tea and chocolate", written by Antonio Lavedan surgeon and published in Madrid in 1796.
It warns of possible contraindications of tea in children, and the effects of caffeine in adults.
It follows from the above that this infusion should be banned for children and young people, because it weakens your stomach, and alters the digestive faculty, and engenders many ailments, and thus one should inform young people that the continued and consistent use of this liquor harms health, weakens the strength, and generally alters one's temperament
Translation of the Spanish text into English


More information on tea.
This article was endorsed by
Elisenda Carballido
- Dietitian nutritionist. Postgraduate in Phytotherapy and master in Nutrition and Metabolism.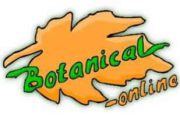 Written by
Editorial
Botanical-online team in charge of content writing