HARMFUL EFFECTS OF CAFFEINE
Benefits and detriments of caffeine-containing products
The use of products containing caffeine provides a wide range of benefits to our body with an adequate intake (see "Properties of caffeine" in the listing below) However, an inadequate or improper use causes more harm than good.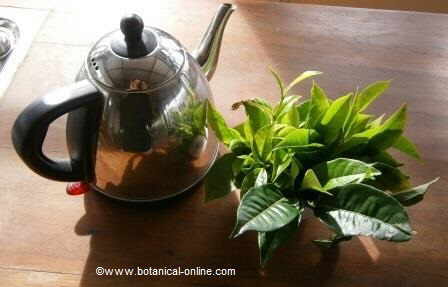 Photo of an infusion of tea leaves. Tea contains half the caffeine than coffee
Side effects of caffeine
Doses above 400 mg daily can be harmful. Keep in mind that many drinks and drugs contain this principle. Therefore, we must add all of them to calculate the total intake of caffeine. A too high intake of this component can cause physical problems, such as:
Digestive problems with heartburn, stomach pain, irritable bowel, flatulence, diarrhea or constipation, etc.
Nervousness
Insomnia
Tachycardia or irregular heart rate
Ringing in the ears.
Tremors
Muscle spasms.
Precautions in the use of caffeine
Caffeine should not be used as usual a remedy to combat drowsiness but only as a timely resource. Regular use of caffeine products to avoid falling asleep can cause sleep disorders.
Caffeine does not help undo the hangover caused by alcohol consumption. The combination of alcohol and caffeine is dangerous
Individuals taking preparations containing caffeine without prescription should consult with the doctor or specialist before starting consumption.
Children under 12 should not take products containing caffeine.
The reaction to caffeine depends greatly from person to person. People who are not used and older people react more intensely.
Caffeine can interfere with some medications or their combination can be harmful, so people taking medications should not take caffeine-containing products without consulting the doctor or specialist.
Ingestion of products containing caffeine causes an increase in the urine, so the person who consumes these products should drink plenty of liquids to avoid dehydration.
Avoid caffeine with other stimulants, like ephedrine.
Who should not eat products containing caffeine?
The ingestion of caffeine may be counterproductive in many diseases, so, if you are suffering from some disease, you should consult with your doctor whether to take caffeine. People who have the following problems should not take caffeine:
People with ulcer
People with hypertension
People who suffer from arrhythmias
People who have had a heart attack recently.
People who have trouble sleeping.
People with restless legs syndrome.
People anxious, or stressed
People with dementia.
Women with premenstrual syndrome.
People with liver problems.
People with gastric reflux.
People prone to flatulence.
People with stomach ache.
People with diverticulitis.
People with diverticulosis.
People with osteoporosis.
People with bulimia.
People with glaucoma.
People with urinary incontinence.
Caffeine intake during pregnancy
The use of caffeine containing products during pregnancy is a hotly debated topic. It is known that high doses of caffeine can cause abortions or malformation in the baby. Pregnant women who take 2 to three cups of coffee are more likely to have babies with low birth weight. It is therefore advisable to consult a doctor or specialist about this.
Breastfeeding and caffeine intake
Caffeine may cause problems in the nursing infant if mothers take large amounts of coffee. It has been found that taking an average of 600 mg of caffeine daily (the equivalent of 3 to 6 cups of coffee) can cause problems of nervousness, sleeplessness, irritability in infants.
Therefore, women drinking coffee in abundance, if breastfeeding, should minimize the consumption of coffee or consult their doctor or specialist.
Is caffeine addictive?
Caffeine is addictive, so it creates a dependency that forces you to drink it regularly. We know that the person used to drink too much coffee presents certain symptoms of dependence when it stops taking it abruptly (headache, tiredness, muscle aches, nervousness, and so on)
Naturally, these symptoms disappear after a few days or they can be avoided if the amount is reduced gradually. It is important not to stop taking this component at once, but gradually reduce their consumption so as not to produce these side effects.
Critics of caffeine-containing products even believe that the phenomenon of tolerance is even worse. That is, the drinker person is required to consume higher quantities so that he can obtain similar effects. This is evident in people not accustomed to drinking coffee, which they feel alive with a simple cup, while people who habitually drink lots of coffee virtually do not realize when they ingest the first cup.
Between supporters and opponents, a large majority of specialists and scholars who believe that the use of coffee can have beneficial effects if one takes into account a responsible consumption and not knowing in which situations it is desirable not to drink it.


More information about coffee and caffeine.
This article was endorsed by
Vicente Martínez Centelles
- Founder of the web and director. Teacher of natural sciences, expert in plants, natural remedies and botanical photography.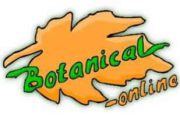 Written by
Editorial
Botanical-online team in charge of content writing