What is a cabbage plant?
Characteristics of cabbage (Brassica oleracea)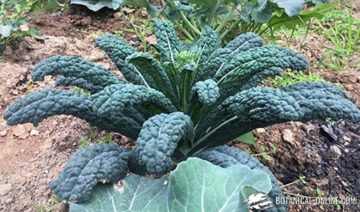 Common name: Cabbage
Scientific name: Brassica oleracea L.
Family: Cruciferae
Habitat: Along paths by the sea and cultivated as vegetable under different varieties: cauliflower, brussels sprouts, white cabbage, etc.
Description of cabbage
Herbaceous annual or perennial plant of the Cruciferae family – up to 300 cm.
Glabrous, erect stems, showing foliate marks.
The upper leaves are sessile. Those on the base much, more fleshy, petiolated and with lobules.
Yellow flowers, till 2,5 cm. wide, grouped in loose racemes.
History of cabbage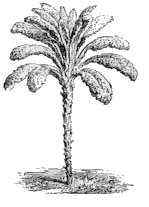 Brassica oleracea palmifolia
Cabbage is a plant that has had a fundamental importance in Europe from the antiquity. Very well-known by The Celts and very appreciated by the Greeks that even served it in public meals and it appears to be mentioned in the scripts of playwrights as Epicarmo (VI C BC) whose characters advised their use to cure diseases.
At the Roman time, it is mentioned by Cato in its work " De Re rustica" like a remedy for intestinal or pulmonary disorders and, mainly, to increase milk production in women.
It is very difficult to pinpoint the exact moment when the cabbage arrived in America, but certainly this plant had a fundamental role in this continent by the importance that the native people gave to edible wild plants.
In studies made by colonists, few years after the discovery (Bernal Diaz del Castillo, in 1538) revealed as the eatable plants, known like quelites, played a fundamental role in the life of the natives.
Nowadays these plants even have a very important value for the population, specially the urban one. To the point that more than 300 species of higher plants are considered as such, and are used as vegetables, spices and healing plants.
For the Aztecs these plants still had more importance than they have nowadays. It seems that the conquerors despised these wild plants and were introducing their own ones.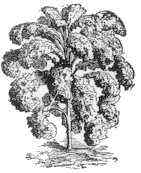 Brassica oleracea crispa
Nevertheless, cabbage was one of the few that were accepted as substitute of the native plants. Throughout the centuries cabbage has even been considered itself as a real quelite itself.
Nicholas Culpeper (1616 – 1654) in his book "Complete Herbal" comes to value this plant so much that he says that its juice mixed with wine helps to improve the bite of the viper. Also, among other things, it claims that, if it is boiled with a chicken, a pair of times, helps to release the obstructions of the liver and spleen.
He also reaffirms that the good Cato – mentioned previously – did not take another remedy and it points to later proven values such as its emollient properties, as we will see in the section on its medicinal uses that follows.
Components of cabbage
As with most vegetables, cabbage contains mostly 92% water. It does not provide much energy, but due to its flavonoids, fiber and other phytochemical components, it is a very healthy food essential in any balanced diet:
Carbohydrates (5%)
Fiber (2%), mucilage
Aminoacids: Alanine (Interesting as it takes part in the production of antibodies); Arginine (Essential in the elimination of ammonia, tissue repairing and muscular construction); Cystine (hormones); Glutaminic acid (It improves the mental conditions, prevents schizophrenia and vitalizes the organism); Leucine (infantile growth, balance of nitrogen); Tyrosine (Acts as a neurotransmitter and it has much importance in the fight against the depression as well as in the good performance of pituitary and thyroid glands); Sulfoxide of S-Methylcisteine, etc.
Essential fatty acids: It contains certain amounts of linoleic and linolenic acid.
Vitamins: Ascorbic acid (vitamin C, essential in the prevention of diseases like scurvy. It plays a fundamental role in the formation of the collagen); Niacin (Vitamin B3) (Metabolism of fats, prevention of the hypertension and reduction of the cholesterol); Folic acid (Vitamin B9)
Minerals: Bromine, aluminum, barium, calcium, fluorine, magnesium, phosphorus
Sulfur compounds (glucosinolates): They are responsible for the strong smell of cabbage when it is cooked. (in very elevated amounts, sulfur takes part in the bony growth and the toxin elimination of the body)
Nitrates


More information on cabbage
This article was endorsed by
Julián Masats
- Technical agricultural engineer specialized in horticulture and gardening.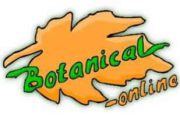 Written by
Editorial
Botanical-online team in charge of content writing