BENEFITS OF GUNPOWDER TEA
What is Gunpowder tea?
Gunpowder tea is a type of green tea from China, in the Zhejiang region.
It is one of the most appreciated by tea lovers, and is considered among the best quality green teas. Leaves s from the first harvest are selected to manufacture this type of tea. The are rolled into small balls – dark greenish.
It is characterized by its rolled leaves forming pellets, which reminds " gun powder " and gives it its English name of Gunpowder.
This green tea is the most consumed in China, where it is known as Choo – cha (pearl tea) or " pinheads " (Imperial Pinhead).
The tea has the balls good bright and very folded. To determine the quality of this tea one has to look at the size of the balls: a smaller size, higher quality.
Gunpowder tea is green tea type "standard", that is consumed worldwide. It is drunk a lot in Morocco and some Arab countries. In these places it is prepared with mint leaves and lots of sugar, forming an energy drink, refreshing and delicious.
The infusion color is green – olive, and its flavor is pleasant, sweet and aromatic. The taste is very aromatic and stains water greenish golden color.
Is said to contain high doses of fluoride, and taken regularly helps prevent tooth decay.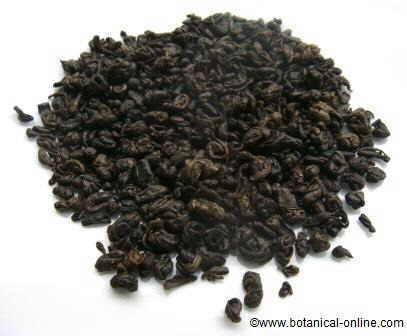 Photo of Gunpowder green tea of superior quality.
Gunpowder tea properties
One of the main properties of green tea, such as Gunpowder tea is its role in weight loss diets to lose weight as an assistant.
Its caffeine content and catechin tea makes it a nervous system stimulant and antioxidant. Caffeine, and is a natural metabolic stimulant, has diuretic properties that promote diuresis and helps eliminate fluid retention. The components make it suitable antioxidants to prevent cholesterol and poor circulation.
Gunpowder tea is rich in magnesium and fluoride. Scientific studies have shown that regular consumption of tea is associated with a lower incidence of tooth decay among populations that consume it. These effects can be explained by the high fluorine content of green tea, or the antibacterial properties of tea tannins.
* More information : Properties of green tea in the listing below
How to prepare Gunpowder tea?
Preparation:
– At 80 º C infuse teaspoon Gunpowder tea leaves (4 – 5g.). Never boil them. Optionally, add mint and sugar, as it is usually done in Arab countries.
– Cover and let stand 3 minutes.
– Serve hot with no milk.
This type of tea can be served cold, adding double the amount of leaves and pouring the tea into a glass with ice. Cold Gunpowder tea has a slightly spicy flavor that is very pleasant
* More information: How to prepare a good tea


More information on tea types and information about tea
This article was endorsed by
Montserrat Enrich
- Journalist specializing in edible wild plants and plant uses.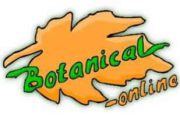 Written by
Editorial
Botanical-online team in charge of content writing