Properties of bearberry (Arctostaphylos uva-ursi Sprengel)
MEDICINAL PROPERTIES OF BEARBERRIES
Internal use preparations with bearberries
Bearberries for Urinary tract
Bearberry constitutes one of the most used remedies to treat the ailments of the urinary tract.
It is used fundamentally in cases of infections taken place by bacteria. However, to carry out this function, it is necessary that our urine should not be acid, so most of the treatments carried out by means of this plant usually combine it with the bicarbonate ingestion that neutralizes the acidity of the urine, making it alkaline.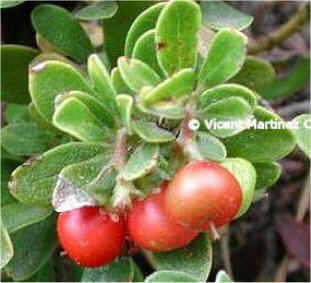 Therefore it is appropriate for the treatment of illnesses like inflammations of the urethra (urethritis), of the urinary bladder (cystitis), irritation of the urinary tracts and it acts about the imperious necessity of urinating that these urinary affections generate, so it can be used for urinary incontinence.
These effects are attributed to the arbutin that becomes hydroquinone when it enters in contact with the intestinal flora.
Another important factor is its high content in tannins (15 to 20%) that act on the purulent secretions that these illnesses generate.
Take one of the following preparations:
Maceration in cold water of four spoonfuls of dry leaves by liter of water during 4 hours. Drink 3 glasses a day. – Avoid to macerate the leaves in hot water, not to liberate too many tannins.)
20 drops of fluid extract, twice a day
Powder several leaves and take 2 tea spoonfuls a day. It can be mixed with honey to make it more pleasant.
Bearberries for kidney stones and gallstones
It is quite effective in the treatment of gallstones and kidneystones. Not for its power to dissolve calculi (Lithiasis), what it doesn't really do, but in its germicide value that impede the infections that many times are associated with this type of ailments. (Take anyone of the preparations previously seen)
Bearberries for kidney inflammation
It is very recommended for the treatment of nephritis. Take one of these treatments:
Cold maceration for 4 hours of four teaspoons of shredded dried leaves per liter of water. Drink three glasses a day. (Avoid macerating the leaves in hot water, because this will release a high quantity of tannins),
20 drops of fluid extract twice a day.
Crush several leaves and take 2 teaspoons a day.- they can be mixed with honey to make it more enjoyable
Mixed infusion of half a spoonful of goldenrod and a half of bearberry in a glass of water for 10 minutes. A couple of cups a day.
Bearberry for female genital apparatus
Because of its astringent and germicide properties it is used for the treatment of the genital illnesses in those cases when secretion with pus is delivered, such as in blennorrhagia or leucorrhea. (Take anyone of the preparations previously seen)
Diuretic properties of bearberry
Bearberry constitutes one of the best diuretics when it is necessary to increase the production of the urine. This property can be used, for example to treat obesity or for liquid retention (Infusion of four spoonfuls of dry leaves in a liter of water. Take 3 glasses a day). it seems that flavonoids grant it this property.
Bearberries for the digestive tract
Being very rich in tannins, it has been used to combat diarrhea, since these components bestow its astringent properties. However it is necessary to be very cautious in the administration of this drug for the toxicity that flavonoids present when the authorized limits are exceeded. (See more information in the listing below)
External use preparations with bearberries
Bearberries for skin lesions
Used externally, we can take advantage of its germicide and astringent properties to cure wounds, to improve the scars and to impede them to be infected. (Decoction of a handful of dry leaves in a liter of water during 10 minutes. Apply the resulting liquid with a gauze on the affected area)
Another uses of bearberries
The leaves of this plant, for its high content in tannins, have been used to tan skins.
The pharmaceutical industry extracts components to whiten human skins, avoiding a too dark coloring, or to remove stains of the skin, mainly in people subjected to a too prolonged solar exposure, in grown-ups as a result of a biological process, in people that are subjected to certain medications, or during pregnancy.
These medications are applied in form of gels or creams and they contain the extract of the bearberry or vegetable oils, as that of almond. What this plant does is to intervene in the melanogenesis process or formation of the melanin or dark pigment which gives the dark color of the skin.
The action is carried out by a component called hydroquinone, which neutralizes the enzyme tyrosinase, a catalyser which is necessary for the formation of the melanine from the oxidation of tyrosine.
Curiosities about bearberry
The scientific latin name uva-ursi (=Grape of the bears in English) is due to the liking that these plantigrades have for the fruit of this plant. For the humans, although it is eatable, it has a rough and not very pleasant taste, although it is good when it is prepared in marmalades.
Main curative properties of bearberries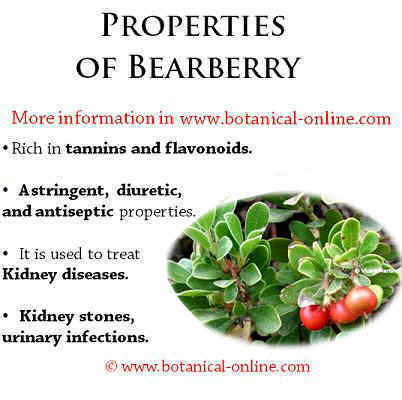 Toxicity: ¿Are bearberries dangerous?
Because of the tannins, when the allowed doses are exceeded or when we prolong its use too much, the plant becomes toxic, irritating the digestive tract, which produces adverse stomach reactions as vomits, gastritis, uneasiness in the sphincters, etc.
In the same way, if this component is incorrectly used, it can produce damages in the liver. Hydroquinone is also poisonous with overdosage, which can be deathly.
This plant should not be used during the pregnancy, being able to produce deformity in the fetus or induce to a premature childbirth. It should also be avoided in the event liver illness. Neither it should be used with children.


More information about bearberry.
This article was endorsed by
Montserrat Enrich
- Journalist specializing in edible wild plants and plant uses.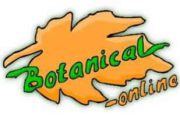 Written by
Editorial
Botanical-online team in charge of content writing