CASHEW USES
What are cashews for?
Cashews are mainly consumed as a food, more specifically as nuts. Other parts of the plant are also used for different applications. This is the case of wood that can be extracted from the tree trunk, which is typically used to to manufacture some tools with wooden handles, types of hammers, etc. From it, a resin is also extractted, because of its elastic properties.
Cashews contain a substance called urushiol. It is a resin that it is irritant to the skin, or other mucoses that could get into contact with it. Because of this, It is considered a dermatotoxic fruit.
Which cashews should we choose?
We must not choose those cashews that have dark spots, mold or odors. We always choose those with the best appearance and having fewer defects. Obviously, the most entire they appear, that's to say the most undivided cashews are, the best they will be.
It is always preferable to choose packaged cashews to ensure better hygienic quality. For this reason, we recommend the vacuum-packed products, with expiration date, compared to those supplied in bulk without proper packaging or expiration date. There is no way to know how much long the latter ones have picked.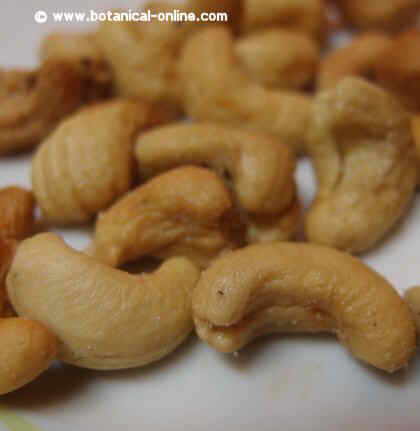 Photo of cashews
Conservation of cashews
Cashews are one of the few nuts that are generally marketed unshelled. This may shorten its shelf life, as cashews shell acts as a protective barrier. It is also very susceptible to become rancid due to its content of monounsaturated and polyunsaturated fat.
When stored, they should be kept tightly sealed, in a cool place, with no humidity or direct light that can cause premature oxidation.. If we keep them in cooling, we will substantially lengthen their life. If we freeze, we can even extend it to a one-year period.
Using cashews
Cashews are used in different ways and in different forms in a range of different elaborations. We usually find them whole, but also crushed, milled, roasted, fryed, added with sugar, honey or salt.
We usually eat them more as an aperitif, but they are also used for roll in butter or as an ingredient for salads or desserts. They can be included in some sauces. Although they could be used in baking,they are not the nuts used par excellence, as it might be walnuts or almonds.
In Thai cuisine, they are often used in some elaborations like curry, with rice, meat and vegetables. They can also be found in some elaborations of African cuisine, especially as an ingredient in sauces.
In some areas of Colombia, when the weather is hot, ice cream is made with cashews. In Panama, sodas are made with the juice of this fruit, to which some roasted or chopped seeds can be added.
* More information:
– Contraindications of cashews


More information on cashew.
This article was endorsed by
Montserrat Enrich
- Journalist specializing in edible wild plants and plant uses.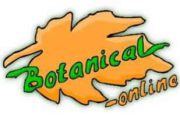 Written by
Editorial
Botanical-online team in charge of content writing